[wp_ad_camp_2]It is some years since I first started clicker training and I have taught the clicker retrieve to quite a few dogs now.
But  I still remember the first time very clearly and the sense of epiphany it gave me as I realised the power and scope of the clicker trained retrieve to overcome a range of retrieving difficulties.
Retrieving and delivery problems
The clicker retrieve overcomes the following problems:
The dog that won't pick up the dummy
The dog that spits out the dummy
The dog that runs away with the dummy
The dog that won't let go of the dummy
It is not the only way of solving these problems,  but I am convinced that in many cases it is the best way.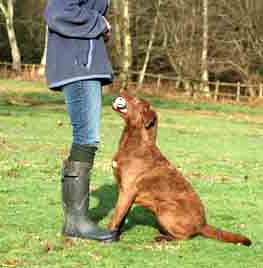 Over the years I have modified and simplified my method so if you have read my original version you will find this one a little different because I now begin by teaching the dog to pick the dummy up from the floor,  rather than by taking the dummy from the trainer's hand.
I have also become aware that there is one slightly tricky part of this process where people are most likely to get stuck.  I have addressed this part in some detail to enable you to progress smoothly through the entire process.
The clicker retrieve
The clicker retrieve is not a 'quick fix'.  You will need to set some time aside for ten minute training sessions, preferably two or three times a day,  but certainly at least four times a week.
The whole process will probably take from one to four weeks depending on how often you train,  and on what problems your dog had to begin with.
Any dog can be taught to retrieve using this method, even a dog with little or no retrieving instinct. 
However, the clicker retrieve is not a substitute for retrieving instinct.  
It probably won't turn a gundog with no interest in retrieving into a really passionate retriever and is best used for teaching a nice smooth delivery once an enthusiastic retrieving habit has been established.
Four parts to a trained retrieve
I have divided the clicker trained retrieve into four parts
They need to be taught in this order,  but you can miss out the first part if your dog already picks up a dummy quite happily.
I'll be posting up each part in the weeks to come,  so do check back for updates.
If you enjoy my articles, you might like my new book: The Happy Puppy Handbook
 – a definitive guide to early puppy care and training.