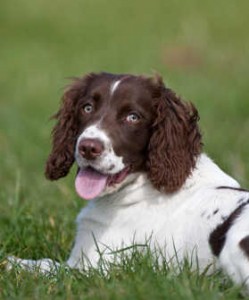 In  part two of 'The trouble with springers'  I looked at the 'trouble' that springers can get into in an inexperienced working home.
In this article I will be looking at the combinations of factors that are influencing the working bred Springer's relationships with his human family.
In times gone by
In the 'old days' (those of us over fifty will remember) working spaniels of all varieties were often allowed to run pretty wild for the first few months.
At  eight months old or so discipline would be introduced. Much spaniel control at this point was achieved by some fairly tough handling.
It was not called 'dog-breaking' in some circles without good reason.[wp_ad_camp_1]With some dogs it would require very tough handling indeed.
This was not commented on, or protested against. 
It is tempting to pass judgement retrospectively, but it  was what it was.
Dogs learnt in the space of a very few weeks,  to behave appropriately.
Modern dog owners
Times have changed in many ways. Nowadays, rough treatment of any kind towards animals is simply not acceptable to most people.  Most of us want to train largely with rewards without harsh punishment, and many people are not happy to use any force at all in training their dogs.
Unfortunately many are not equipped with the knowledge and information required to train effectively without force.
The nature of the working springer
There is no doubt that the nature of a seriously hard hunting spaniel makes any degree of control very difficult to achieve without some force once the dog has experienced the 'thrill of the chase'.
It is also interesting to note that there are Springers being bred nowadays that are 'softer'  in temperament,  more biddable,  more easily trained.  But that many, Springers from working lines are still fairly tough and independent characters.
The spaniel and owner combination
These are two undeniable facts  –  In recent times
Dog owner's attitudes toward training methods have changed
The nature of many working spaniels remains largely unchanged
These two facts are inextricably linked,  because to successfully train a  Springer Spaniel with little or no force, requires a very different approach to his management than was used in times gone by.
A major part of training without force lies in preventing bad habits from forming.
Social change needs to be recognised
The changes in social attitude towards dog training often go unrecognised by those dishing out both puppies, and advice.
As a result,  there are a lot of spaniels out there that have had a barrowload of fun chasing everything from butterflies to the neighbours cat, in their own backyard, and even more fun chasing every living thing in the countryside from squirrels to cyclists,  by the time their owners seek help.
Those selling puppies have a responsibility to recognise that their buyers may not be willing or able to use the same methods that they use themselves.  These buyers need advice on effective training without force that they are seldom receiving.
Expectations of the new spaniel owner
It is worth remembering that in addition to his preference for non-aversive training methods, the modern dog owner also has some fairly specific requirements and expectations of life with a dog.
His first expectation is that he will be able to go for walks with his dog.
His second expectation is usually that the walks will be enjoyable!
By enjoyable,  he means 'relaxing'.  This is relevant as we shall see later.  The average prospective puppy buyer expects that his adult dog will be willing to romp around fairly close to him on a walk, without any significant input from his owner.  The reality as we have seen is often far removed from the dream.  Now let's look at what the dog expects.
Expectations of the spaniel puppy
A small puppy expects to stay close to its protector.  That's you!  This phase lasts in some dogs, a lifetime,  in most others just a few months.
In some Springers, it is over in a heartbeat.
Somewhere between three and six months old, as his confidence grows, this hunting dog begins to lose his fear of losing his protector (you) and his 'hunting drive' starts to 'kick in'.
Hunting drive kicks in
Hunting drive is an inborn instinct or urge to hunt.  And most working bred Springers have this instinct in generous quanitites.  The instinct can be enhanced further, especially by letting the dog chase game, as most inexperienced owners soon discover by accident.
Once a pup experiences a flush, and a chase,  from that day on, his expectations of a walk are radically different from yours.
Expectations of the young Springer
For the young dog, every walk now becomes an uncontrolled hunt, and is preceded by the expectation of a hunt.  The thrill of chasing begins to overwhelm the puppy's unguided mind.
He loses interest in anything that is not hunting.
He becomes excitable in the car,  excitable in the house, deaf to your shouts and whistles, and that is just the start.  Running away,  serious, risky, running away, comes next.    Perhaps worst of all,  the good dog,  is now a 'bad dog'.  He is disapproved of much of the time.  And he knows it.
We need to bear in mind, that for a spaniel,  the 'chase' itself is the most intensely rewarding experience on earth for the dog.  Better than sex.  Once he has experienced a good chase or two, nothing you can offer him as a reward for not chasing can now compete.
You are probably going to have to deter him with punishment in order to be successful in gaining control. The more 'chases'  the dog has had,  the more determined he becomes.
Chasing becomes like a 'drug' to the dog.
And with some spaniels, any punishment meted out now, may have to be more severe than most of us would care to contemplate to have any effect on a hardened chaser.
But why are we seeing such a particular problem with Springers?  Why does the Gundog Club receive only a fraction of the number of calls for help from Labrador owners or Cocker owners?  Both these breeds vastly outnumber Springers in popularity as family dogs.  For the answer to this question we need to look at the unique nature of some of our working bred Springers today.
What's up with springers?
Some Springers are extremely biddable.  Let's not overlook this fact.   These Springers adore their owners, come when they are called and lead generally blameless lives whilst their smug owners think the rest of you are just incompetent.
But it is the 'other Springers' that we are concerned about. Why are so many people struggling with this fantastic little 'all-round' gundog much loved by experienced gundog trainers and the field trial community.
What is it about Springers that causes so many inexperienced trainers to come to grief?  What makes them more difficult to deal with than other gundog breeds?
There are two particular characteristics of some Springers that seems to cause real problems for inexperienced owners.  The first of these characteristics  is the sheer intensity of their 'hunting drive'.  The second is a lack of what can be described as 'social drive'  A social drive is the urge to seek out company. In a dog's case, this would usually be human company.
Intense hunting drive
Hunting drive' is important in all gundogs as it powers both the flush and the retrieve.  Without it, young Flash will remain sitting outside that bramble bush while your mates look on and mock.
Some experienced trainers will say that you can't have too much drive,  but that is simply not true for the vast majority of owners.
In some Springers, this drive is so strong that it overwhelms the dog, and in the process overwhelms the owner.  And whilst drives are 'inborn' and 'inherited', the strength of the drive increases with every single chase.
This intense drive may in some young Springers be characterized by the dog physically 'freezing' up like a pointer. In the younger pup this reaction is usually triggered by a visual stimulus  –  the sight of a moving object, even a speck of dancing light can do it.
Later on it may be triggered by scent.
Indeed some spaniels and retrievers too will 'point' at game just like their long-legged cousins.  Not all Springers that 'freeze' will be problem dogs and not all problem dogs will 'freeze' up, but those that do need watching carefully.   If restrained, the 'intense' dog's rigid body posture may be accompanied by visible trembling or shaking, and the dog will be impervious to any stimulus other than the one his whole being is focused on at that moment.
You can talk to him, tap him, or offer him his favourite three course meal but once this  dog is 'locked on'  to a ball, a butterfly, a leaf or even a splash of sunlight, he is lost to the world and everything else in it.   This does not bode well for an inexperienced owner.  If your dog behaves in this way,  it is important to get some experienced training advice as soon as possible.
Poor sociability
We all know dogs that are very sociable, very keen to be with people and these are often gundogs.  We also all know breeds of dog that tend to be more 'aloof'  and disinterested in people generally, some of the herding breed have this characteristic.
But this 'aloofness' can also occur in Springers.  It isn't that some Springers don't like people, just that they can 'take them or leave them', and when outdoors,  they are quite happy to leave them.
This is in stark contrast to the craving for human approval that tends to come ready installed in most (not all) working cockers.
It is interesting to note, that if you trip over whilst out in the countryside with a half grown untrained Spaniel, and end up sprawled on the ground, you will often get one of two very different reactions.  Either the dog will seize the opportunity to jump all over your head and shower you with affection,  or he will take the opportunity of your momentary embarrasment, to disappear over the horizon.
The vast majority of Cocker Spaniels cannot resist an opportunity to wriggle and squirm all over you. They seem to derive an intense pleasure from human contact.  Hunting is a joy to them, but human contact comes first.
Some Springers are also like this,  but many others take a different approach.  If you are  foolish enough to waste good hunting time sitting on the ground, nursing a grazed knee,  don't expect him to wait around for you. As far as he is concerned,  you can catch up when you are done lazing about.
Here comes trouble
When a powerful hunting drive is coupled with a tendency to lack the very strong need for human companionship present in many other gundog breeds, the inexperienced gundog owner is in real trouble.  These two characteristics seem to come together more often in Springers than in any other gundog breed.
Combine this 'take you or leave you' attitude with the degree of independence that emerges in all dogs toward eight months of age and mix it in with the confidence that comes from the excessive amount of freedom often offered by the inexperienced spaniel owner,  and you have your problem dog in the making.  As a result, there are Springers  not much more than a year old, that are 'out of control' in many families around the UK and what happens to them next is a lottery.
But it needn't be like this.
If we are aware of the natural characteristics of the Springer,  of his intensity, of this 'self-centred' aspect to many a Springer's character, we can take action with our puppies that will dramatically alter the outcome of our training.
In the next instalment of this series,  I'll be looking at what practical steps you can take,  to make sure that you and your Springer stay out of trouble.  See you then!
If you enjoy my articles, you might like my new book: The Happy Puppy Handbook
 – a definitive guide to early puppy care and training.