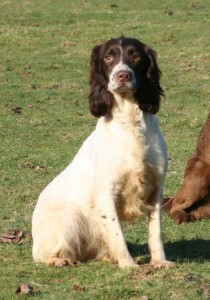 In part one of The Trouble With Springers, we looked at the difficulties many novice Springer spaniel owners get into when they buy a working Springer puppy as a pet.
But it is not just 'pet homes' that get into trouble with Springers.
Many working bred Springer pups are sold to potentially 'working' homes.
Of these, a small proportion end up in experienced hands, and get the guidance and training that they need.
Much of the time however, it is a very different story.  The pup is purchased, and taken away to start his new 'dual purpose' life as working dog whilst living in the comfort of his new family home.
Good advice?
What could be better you might think. However, the novice owner often departs from the breeder with more than just a new puppy.[wp_ad_camp_1]He frequently departs with a very important piece of advice etched into his brain.
"Get your puppy hunting"
If he does not get this advice from his breeder, the new owner will undoubtedly read it somewhere before his puppy has even reached the tender age of 3 or 4 months old.   For him, this piece of advice is could be the worst advice he will ever be given.  Especially when it is accompanied by the dire warning.
"Don't teach any heelwork until all other  training is nearly finished"
Of course a spaniel's job is to hunt,  and hunting is the absolute 'raison d'etre' of every working spaniel. Of course we need to build our spaniel puppies' confidence up with lots of opportunities to explore different kinds of undergrowth and terrain.
A passion for hunting
Spaniels need to be bold, and confident, and not fearful of leaves, or  mud or puddles.  However, nature, with a little help from selective breeding, has provided our working Springer Spaniels with some excellent hunting instincts.
For every Springer Spaniel puppy whose owner is concerned over its lack of hunting ability,  there are a hundred, if not a thousand, owners that are in total despair over their own inability to stop their spaniel hunting the length and breadth of the county on  every trip to the countryside.
Taken in context advice to get puppies hunting before  discipline is instilled, is actually perfectly reasonable.
But very  often, this advice is neither given, nor taken, in context, and is not accompanied by the information necessary for the owner to make appropriate decisions on how to manage his dog.  Particularly with regard to keeping a spaniel close,  and making sure that all the fun experiences he has take place  around his owner.
Many times,  when a new Springer Spaniel puppy is purchased, the story goes like this.
Flash the perfect puppy Goes Home
The new owner begins to settle in with his beautiful puppy.  At the moment eight week old 'Flash's' only interest lies in his dinner bowl and sleeping on someone's lap.
But the next shooting season beckons and as Flash snores contentedly, the new owner is troubled  from time to time by  worrying images of his spaniel 'Flash' in nine month's time sitting obstinately at the edge of bramble bush with his nose in the air whilst several rabbits, or an entire flock of pheasant skip around inside.
"What if Flash won't hunt!"
These disconcerting images become more elaborate over the next few weeks and in the scene in the poor owner's head 'Flash' and the rabbits are soon joined by a large band of onlookers rolling around with laughter at the useless spaniel.
Flash goes hunting
The new owner is determined that his dog will be the best hunter in the county.  He will make sure that there is no terrain, no cover, no bush or hedge that Flash will not tear apart in his relentless search for game.
His dog will be 'Flash the hero', the  'dog of the day'.
Incidentally, this also fits in very nicely with the owner's plans to get more exercise and lose the extra few pounds he put on over Christmas.  Together,  he and Flash will explore the world on their daily expeditions and form a bond.
Man and dog together.
Flash the hero
For the next few weeks this little working Springer puppy is encouraged to hunt, and to hunt, and to hunt some more.
Mindful of the fact that he must not curb young Flash's enthusiasm,  our keen new trainer is thoroughly enjoying his relaxing daily strolls,  whilst he watches the puppy dash here and there with his well-bred nose firmly glued to the ground.
The first flush of summer
Then one summer morning,  whilst dashing through  some long grass, our 'Flash' makes his first flush.
A rabbit springs up right under his nose and the pup is off!  Our new trainer has read the books,  he  knows he mustn't chase the puppy, but waits patiently for Flash to come back,  which he does quite quickly as the rabbit disappears down a nearby burrow.
Our trainer returns home,  congratulating himself on his puppy's excellent working prospects totally unaware that inside his puppy,  a spark has been ignited, and burning flame has begun to grow.
Flash has discovered 'the meaning of life'.  Nothing will ever be the same again.
Time for some brakes and steering
At this point,  the experienced trainer would take a good look at six month old Flash,  judge correctly that his hunting instinct is well and truly alive,  and start installing some brakes and steering into the little  chap.
He would probably avoid any more contact with game until Flash is well and truly under control,  and even then,  game would be introduced under completely controlled conditions.
But Flash's owner, and most other Springer owners,  is blissfully unaware of exactly what he has started.
Flash on the brink
The daily walks continue.
Over the next few days Flash begins hunting further and further away from his owner,  and chasing more and more wildlife on every outing.  Flash's recall begins to fail, and he disappears for longer and longer each time.
Now eager to install some discipline, Flash's owner has begun training in the garden at home,  where Flash is actually a model student. He comes when he is called,  and he sits and stays when he is told.
But outdoors, in the countryside, it is a very different matter.
Flash out of control
Flash is now in heaven. Every day is the best day of his life so far.  His owner, is becoming completely insignificant and will remain so until the object of Flash's desire is airborn, long underground,  or until 'Flash' has run himself right off his legs.
The owner's  dreams of a bond,  man and dog together, are fast becoming a distant memory.
It becomes clear that taking Flash shooting this winter would be a  disaster,  and for the owner that fails to appreciate this, a disaster is a certainty, as Flash 'runs riot'.
Flash the embarrassment
The owner's previous worries about Flash 'not-hunting' pale into insignificance compared with the embarrassment that ensues when Flash is released into the beating line of his local shoot.
Heelwork becomes a battle of wills as  'Flash' tries to get to where the hunting starts more quickly and his owner tries to keep him under control.
Flash the nuisance
Walking on a lead is not much fun now with a very fit 30lb rabbit-obsessed dog dragging people along in his wake.  Other members of the family have even less control over Flash than the owner does,  and as the months progress,  the puppy with the bright future becomes an excitable, out of control, millstone around the family's neck.
Flash the unwanted dog
Where Flash will end up is anyone's guess,  but all too often Springer pups like Flash end up being passed from pillar to post in a downward spiral of naughtiness.  The lucky ones end up at rescue homes.  The very lucky ones end up in rescue homes that really understand working bred gundogs.
Of course not all Springer Spaniel puppies,  whether purchased for  work or as pets end up becoming a miserable problem for their owners.  Many are much valued and much loved members of a family.
The problem is,  that this scenario is all too familiar,  and all too often ends up with the dog being dumped, rehomed, or even put to sleep.
Education and information
All those that care about gundogs would like to see fewer working Springers in Rescue Centres,  and the key to that may well be better information and advice.
Both to those responsible for breeding these amazing little dogs, and to people that are considering buying a working Springer,  long before they take their puppy home.
Next time
We will consider the options for preventing and solving Springer problems later in this series.  Next time we'll examine how changes in dog training methods,  and the unique temperament of the working Springer affect the suitability of these dogs for family life.
If you enjoy my articles, you might like my new book: The Happy Puppy Handbook
 – a definitive guide to early puppy care and training.