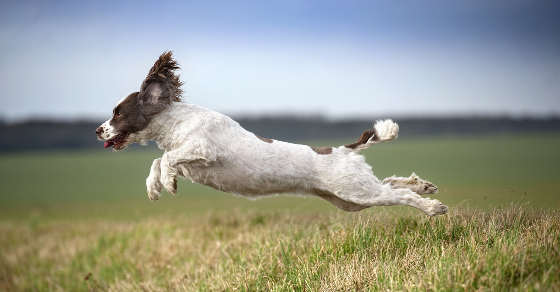 Force-free dog trainers completely avoid all use of aversives.
When we use the word aversives, we are not just talking about the types of physical punishment used by some traditional gundog trainers.
Including smacking, scruffing, and lead jerks.  There is more to it than that
No intimidation
Force-free trainers don't use any other form of intimidation. No threatening body postures, no 'stares', no verbal scoldings, no growling at the dog.
No force at all
But how does this work? Surely a dog trained like this would be spoilt and out of control?  Surely this kind of training simply isn't appropriate for gun dogs?
The well trained gundog
Many people confuse positive or force free gundog training with permissive gundog training.  And it is important to get this distinction clear.
Gundog training is a serious business.  Gundogs are working around people holding loaded guns.
In the UK we have an outstanding record of gun safety, but there is still great potential for danger if gundogs are allowed be become unruly.
Obedience is not optional
It is therefore vital that a working gundog is able to walk calmly at heel off-lead, no matter what the distractions around him.
Vital that a hunting dog stops to flush, whistle and shot.
And vital for the humane treatment of game, that dogs working remotely from their handlers are able to follow instructions to ensure rapid collection of wounded animals and birds.
Obedience is not optional for any working gundog.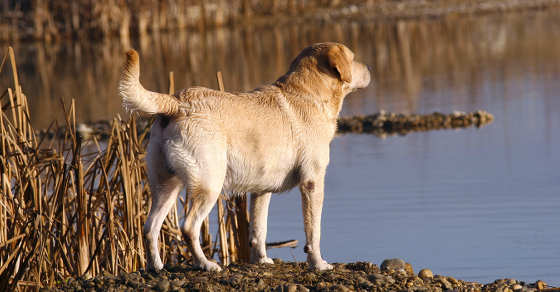 Any method used in gundog training must be reliable and effective.
Does force free gundog training actually work?
Fortunately we now know that it is possible to train a gundog to a high degree of reliability and effectiveness without force.
We now have clicker trained FTCH retrievers, and HPRs and spaniels that are succeeding in working tests.
Training a hunting dog force free is a little more challenging than retriever training, but the evidence is now clear.  Force free training is possible. And this is something I go into in more detail in the next article.
Summary
Force free training avoids all use of aversives.  This means no
Scolding
Shaking
Smacking
Ear tweaking
Glaring
Electricity
Rattle bottles
Nose tapping
Lead jerks
Physical manipulation is avoided too, so no
Dragging
Lifting
Pulling
Pushing
Dogs are instead trained using positive reinforcement.  You will often hear people describe this as  the dog learning to choose behaviours that the trainer has planned in advance.
But I don't want my dog to choose whether or not he obeys!
Of course you don't!  Gundogs need to be obedient.
This does not mean that the dog chooses how to behave in the field. It means that learning to choose behaviours in response to a specific 'cue' given by the handler, is part of the learning or training process.
You will still have a reliable, trained response to your signals at the end of that process.
In fact, choosing, is part of traditional training too, except that the dog sometimes learns to chose the response that avoids punishment, rather than to choose the response that gains a reward.
Dogs do what works
Dogs will always chose the behaviour in the future, that got them the best outcome in the past.
When the dog makes the same choice often enough in response to a cue, that response becomes automatic.  By the time training is complete,  the dog doesn't have to think about it, or keep making conscious decisions.
Getting to that point is what training is all about.  Your job is to control the outcomes today, in order to get the behaviour you want tomorrow.
All training requires effort
Positive reinforcement training is a skill, and its one that both you and your dog will need to learn if you want to train 'force free'.
It isn't an easy or 'soft' option.  You still need to 'proof' your dog's behaviour against distractions, and you still need to work hard to get the high level of obedience needed for gundog fieldwork.
In addition, this is a new field of endeavour so the support network for force free gundog handlers is currently quite small
A one-way street
However the movement towards force free is a one-way street.  More and more owners and trainers are heading that way, and nobody seems to be going in the other direction.
That means if you decide to give it a try, you'll probably be hooked for life.  But it is so much fun, you won't mind.
In later articles we'll be looking at
How to get started with force free gundog training
Does force-tree gundog training really work?
How to get help with force free gundog training
More information
You might also enjoy
And for help and support with force free training, come and join our growing community over on Facebook  Positive Gundogs