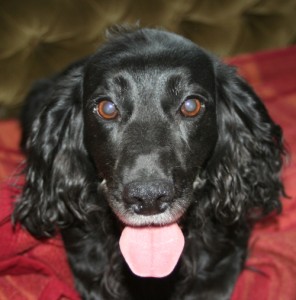 This is Phoebe.
You'll notice she has no bucket on her head.
"So what!"  You might say.
Well, this photo was taken just a few hours after Phoebe was spayed.
But this was a different kind of spay.  No long wound up the belly.  And no 'cone-head' !
A change of approach
Two years ago, we had three entire cocker bitches.
As of last Thursday, we have none.  Once staunchly against the routine neutering of bitches, I now take a different approach.
In the middle of the 2012/13 shooting season, my beloved nine year old cocker bitch Meg, was struck down with pyometra. Emergency surgery saved her.
Just bad luck?
We though this was pretty unusual.  We had never had a bitch with pyometra before.  We felt we'd been unlucky,  and fortunately it had all turned out well.
Just a few months later, our eldest cocker bitch, aged eleven, and still working well, was also struck down.  This time, with a closed pyometra. She did not survive.
Phoebe
Meg's daughter, our youngest cocker Phoebe is six years old.[wp_ad_camp_1]She is my son's rough-shooting and beating dog, and we'd like to think that she still has several years of work and fun in front of her.
But my confidence that this would be the case, had been shaken.
I appreciated that we had probably just been very unlucky.  But I wanted some hard evidence. I set about finding out more about this horrible disease.
Facts and figures
This study from the Sweden Journal of Veterinary Internal Medicine on the breed risk of pyometra was particularly interesting.
It showed that on average, across the 200,000 dogs included in the study, the risk of an entire bitch contracting pyometra before the age of ten years, was 23-24% .  But some breeds were not average.
Some were particularly at risk.  And these included Rotweilers, Golden Retrievers, and, you've guessed it, Cocker Spaniels. In these breeds the risk was greater. In some cases as great as high as 54%
Making my mind up
We decided that wherever possible, it would be a wise precaution to spay entire cocker bitches in early middle age.
Pyometra can occur in dogs younger than this, but it is less common.  And there are disadvantages to early neutering that I would want to avoid.   The risk of pyometra on the other hand, increases with every season that the bitch has.
Having made the decision to spay, we now needed to get on an organise the operation.
I was interested to find out more about the benefits, and costs, of a relatively recent development in the veterinary world. The laprascopic spay.
Two types of spay
The standard ovariohysterectomy spay is a major and very invasive surgical procedure.  And the bitch takes several weeks to fully recover.
A large incision is made along the centre of the dog's belly and the ovaries and uterus are all removed.  Leaving just a stump behind.
There are major blood vessels to tie off, with scope for error, and a risk of damage to the ureters and other pelvic organs.  It is quite a fiddly operation and the time required under anaesthetic is significant.  The operation usually goes smoothly enough, but in addition to the relevant risk factors, infection in the stump can occasionally occur.
Nowadays there is an alternative.  Using a laprascope, it is possible to make a couple of tiny incisions in the dog's belly and simply remove her ovaries.  The laprascopic spay has significant benefits to the dog.   There is less risk of damage to the pelvic organs, no massive wound along the dog's belly.  Shorter time under anaesthetic, less post-operative pain, and a faster recovery time.
Such are the joys of modern technology.  But I doubt if the equipment comes cheap. So I presumed that this would come at a price.
How much will it cost?
I got a quote of £208 from a local vet for a routine spay for Phoebe, against which to compare my 'high tech' alternative.
I had to go a bit further afield to find a vet with a laprascope.  I had made up my mind that if the cost was more than double, I would need to opt for the traditional spay.  I had a Labrador the same age as Phoebe, that I decided would have the same surgery.   And I needed to budget for this too
To my relief, the quote for Phoebe's laprascopic spay was £278.  That included a pre-op and two post-operative checks.  I thought this very reasonable, so without further delay, I booked her in.
A lingering doubt
I had one last lingering concern.  Could we really guarantee, that Phoebe would never get pyometra, bearing in mind that her uterus would be left inside her?
In theory, of course, without ovaries to produce progesterone,  she should be safe.  The development of pyometra occurs in response to progesterone production by the bitches ovaries.   But I needed to be sure.
I started searching for information on the risk of pyometra in dogs spayed laprascopically.
I had to dig about a bit as  most of these veterinary sites make the erroneous assumption that we all want to get our bitches spayed in case they 'fall pregnant'   They were therefore focused on spaying as a means of contraception, and dismissed or glossed over my concerns about pyometra with comments like  "a reduced risk" or "the same risk"
I wanted NO risk at all of this horrid disease.
Then I came across another helpful study.   This one looked at 264 bitches.   Slightly less than half, 124, had been spayed by ovariectomy (via laprascope) and therefore left with the uterus intact.  The rest had been spayed traditionally and had their uterus removed.  The owners were questioned 8-11 years later.
As expected, not one of the 264 dogs in the study developed pyometra.   If these dogs had not been spayed, you would have expected at least some cases,  perhaps 25%  of  these bitches would have developed the disease.
I would have liked a bigger sample of dogs, and it would have been great to know that there were cockers amongst them.  But all in all, taking the results into account together with the fact that no progesterone ought to equal no pyometra, it was enough to put my mind at rest.
Something to think about
I still don't like the idea of chopping bits off dogs in order to prevent pregnancy.  To me that is completely unnecessary.   It's an over-engineered solution for a simple problem that can easily be tackled by proper supervision and responsible management.
However,  for breeds that are at risk,  which includes my beloved cockers, it would be negligent to not at least 'consider' the benefits of spaying before the dog is the wrong side of middle aged.
A happy dog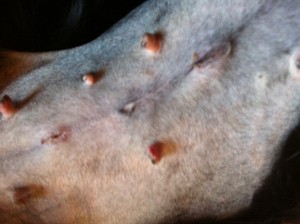 I am very glad that we chose to pay the extra seventy pounds for the laprascopic spay.
If you are familiar with the usual spay wound you might be interested to compare.  You can barely see the two incisions and there is no dressing.
Nor did Phoebe appear to be in any pain.  In fact, by the next morning, she was in great spirits.
She is a typical live wire cocker, and I know she would have been sore with a traditional spay,  and utterly miserable with a cone on her head.
More information
Phoebe's laprascopic spay was carried out by Oak Barn Vets at Guildford.  They are friendly and helpful, and have great facilities.  You can contact them via their website.  They also have a facebook page.    For vets that carry out this procedure in your own area, you can just google as I did, or you may be able get a referral from your local vet.
Check the date on this article when comparing prices, and don't forget that the costs of the operation go up with the size of the dog and the passage of time!
You can find more information on the pros and cons of neutering both dogs and bitches on The Labrador Site.  And its a topic that we often discuss in The Forum
If you enjoy my articles, you might like my new book: The Happy Puppy Handbook
 – a definitive guide to early puppy care and training.