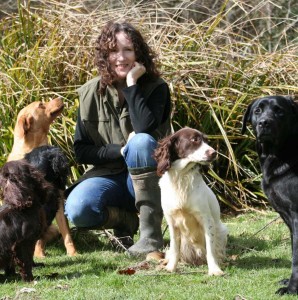 Hi,  my name is Pippa Mattinson, I am a writer with a passion for gundogs!
I am the author of the Gundog Club's popular gundog training books.
I 'm also the author of several mainstream dog books including  Total Recall,  The Happy Puppy Handbook
 , and The Labrador Handbook – all now Amazon best sellers.
It's my pleasure to provide information and advice to pet dog owners through The Labrador Site and The Happy Puppy Site, and help dog professionals with their websites and blogs through my pet blogger's support site – The Pet Blogger's Hat.
Shooting and gundog work
My husband and I run a driven pheasant shoot in Surrey
I have been working my own gundogs in the shooting field for over thirty years, and I have many years experience of rough shooting, driven shooting, duck flighting and hide shooting.
I spend much of my winters beating and picking up with spaniels and retrievers,  and enjoy sharing my experiences with other gundog owners through my books and articles.
Follow this link to contact me
Getting gundogs working
I am passionate about getting more gundogs out into the field and working, and believe that gundog training is the best physical activity for all gundogs.  Even those from show lines, and those not intended for the shooting field.
Getting gundogs trained
I launched the Gundog Club in 2006 to help all gundog owners train their gundogs using a National Graded Gundog Training Scheme.  The Gundog Club welcomes pet and working gundogs alike.
Modern science based methods have taken over from traditional methods in most fields of dog training, and my own methods have changed over the years.  If you are interested in modern positive reinforcement training, you may enjoy my Positive Gundogs on Facebook Facebook group.  It's a place where we chat about gundog training and fieldwork, and where we exchange information on aversive free training techniques for gundogs
Reviews and Affiliate links
We post review here from time to time and may mention products we find useful.  Some of the product links on this website lead to Amazon.  We earn a small commission on any item you purchase via these links, which is really appreciated and doesn't alter the price you pay.  Here is the official blurb!
Totally Gundogs is a participant in the Amazon EU Associates Programme, an affiliate advertising programme designed to provide a means for sites to earn advertising fees by advertising and linking to

Totally Gundogs is also a participant in the Amazon Services LLC Associates Program, an affiliate advertising program designed to provide a means for sites to earn advertising fees by advertising and linking to Amazon.com
Using this website
I launched this blog in October 2011 to provide a home specifically for my gundog training articles.  I hope you find them helpful.
You can comment on any of the articles, and your input and feedback on the issues raised here is welcome.  For more information on this topic, check out this article: Have Your Say on Gundogs!
Best wishes to you and your gundogs!
Pippa