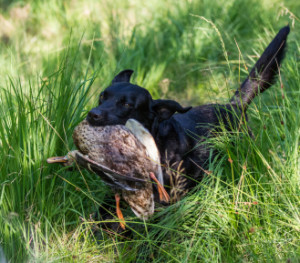 There will be many times in the life of a retriever,  when he has to search for game that he has not seen fall.
Sometimes this will be as part of an unstructured 'sweeping up' process.
At other times this will involve sending a dog to a specific 'area' remote from the handler.  An area that the handler knows or believes to contain a bird, rabbit, or hare.
We call this type of retrieve a 'blind retrieve' or simply a 'blind' for short.
Blind retrieving requires both persistence on the part of the dog, and great faith in his handler.
Persistence
To teach a dog to retrieve blind over long distances without intimidation or punishment, as we do here in the UK, requires that the dog has a great deal of drive or desire to retrieve.[wp_ad_camp_1]This desire helps to keep him focused on his goal even amidst enormous distractions and through physical challenging conditions. But enthusiasm for retrieving, on its own, it is not enough.  
The persistence that carries the dog through the most demanding of retrieves must be developed and nurtured by careful handling.
A young dog can easily be put off by being over-faced with adverse conditions before he is ready and confident enough, to overcome them.  So we need to build up distance and levels of difficulty gradually, in careful stages.
Faith
A blind retrieve is an act of enormous faith on the part of the dog.
Whether the dog is sent from the handler's side, or cast out remotely,  he is travelling 'blind' and relying totally on his handler to send him in the right direction.
If he is hesitant or unsure,  the retrieve may be bungled or delayed.  We need him to travel fast and with confidence.
And to do that requires that the dog has absolute faith in his handler
We need to build in the dog, an unshakeable belief that when we send him in a particular direction, there will be a retrieve at the end of his journey.
Directional control is the mechanism by which we can send the dog to an area of fall,  but the dog's drive, tenacity and confidence in his handler lies at the heart of the process and must be carefully nurtured as we train the dog to respond to our cues.
Start simple and build up
There is enormous temptation to build up distances and levels of difficulty quickly
There is something so rewarding about seeing a dog power away from you, hell for leather, unquestioning and without hesitation.
The further he goes without stopping,  the more proud and happy we feel.   But sooner or later we mess up.
We send the dog too far, and he loses confidence.   "It must be around here somewhere" he thinks, and he starts to hunt way short of the dummy,  or to spin around and look back at us for reassurance.
When this happens, and it probably will at some point, it should set alarm bells ringing in your head.
Back up
If your dog is making mistakes, then YOU are making mistakes.   He is just doing what you have trained him to do so far.
So be prepared to 'back up',  and give him much easier retrieves for a while.
Build up again but this time more slowly.
Try and sandwich more difficult retrieves, where you are stretching him to the limits of his ability,  between easier ones.  So that he starts and finishes on a high.
Casting and lining
Dogs can be sent to retrieve blind from one of two starting points.
From your side – at heel – we call this 'lining'
From a location remote from you  –  we call this 'casting'
You need to teach him how to do both, starting simply and using marked retrieves to familiarise him with your cues or signals,  and transitioning to simple blinds, and gradually making things more challenging for him.
Follow this link for more information on casting and lining
Training exercises
Over the next few weeks we'll be looking at some structured exercises to help build up a retriever's confidence and skill, in blind retrieving.
You can find out more about blind retrieving and directional control in the Passing Grade Three, available from the Gundog Club bookshop