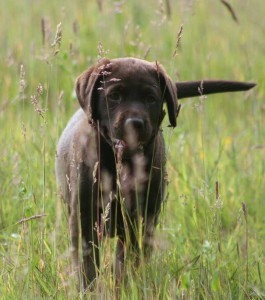 It would be lovely to allow our little chocolate labrador puppy to settle in to her new home for a few weeks before taking her into lots of potentially stressful situations.
But unfortunately we cannot do this.
The window of time in which puppies can easily learn to accept and welcome new faces, sounds and experiences is very short indeed.
So socialisation has to begin the minute  a puppy arrives in his new home .
Rachael's first experience of new people and places,  began yesterday with a visit to our vet.   And she was made much of by both the vet and his receptionist.   Over the next few weeks, day by day,  we will be adding to this with more new experiences for her to absorb and come to terms with.
A visit to the shop
I needed to purchase a little more kibble to see me through until Rachael is switched over to raw food,  so today's first outing was to the local 'country store'.    Here Rachael met a nice young lady customer and the two big guys working the tills.   She was allowed to stand on the counter, and was fussed and much admired!
Then this afternoon we took her to the farm to play on the grass.  Her world has been mainly 'paved' so far.
Parvovirus
Our lawn at home is frequented nightly by the rising numbers of foxes in the village at the moment And our vet tells us that there has been an outbreaks of parvovirus just four miles away, which is quite a worry.
Yet we cannot keep Rachael shut in until she is thirteen weeks old,  so we have to try and pick low risk areas to let her experience different types of environment.
The big meadow on our shoot ground has an area of quite short grass at the moment.  And there is no public access so no risk from strange dogs. There is a wild  fox population of course,  but it is far less dense than at home.  So this is where we went today.
Playing in the buttercups
Rachael had a lovely ten minutes playing in the buttercup strewn meadow and we took some nice photos of her.  She surprised me with her boldness.  When I take small gundog puppies out I spend a lot of time walking in different directions, turning this way and that, to keep them paying attention to me.
At a little over eight weeks old,  most 'field bred' pups would be hugging very tightly to my legs in a big field like this one.
But Rachael was content to explore and I actually had to make a bit of effort, attracting her attention with kissy noises and hand claps,  to keep her trotting after me.
Of course, puppies in any litter whether show bred or field bred will vary and some will be bolder than others.   But it looks as though Rachael is not going to be short of confidence.
Footnote from Rachael: "Things I learned today"
There is a place called a meadow which is the biggest place you ever, ever saw.
If you take your eye off grown-ups in the meadow, they  make off in a different direction!
There is a place called a shop which has more dog food in than any dog could ever eat.
The man in the shop says he has an ex-wife also called Rachael who is apparently not nearly as pretty as me,  and is also a dog!  At least he said she is.  I might have misheard that part.