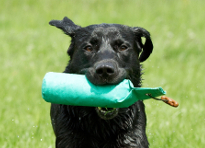 Training is vital for gundogs.
When you are out in the field, having an obedient dog is a must.
You and your gundog will face a lot of challenges as you progress, but each one is helped by being prepared and having the right kit for the job at hand.
Some of the most important tools in your training bag, are dummies.
Dummies and Dummy Launchers
If you are looking for the right training dummies or a new dummy launcher for your gundog, then we have picked out some great options for you:
Bisley Dog Dummy
The 1lb retrieving dummy has quality convas to allow long lasting use, with a plastic toggle to assist throwing.
Buy From Amazon
Heavy 2lb Dummy
This extra weighted training dummy is used for curing faults and practice at heavier lifting.
Buy From Amazon
Puppy Dummy
This 0.5lb puppy dummy is specially designed to be small and lightweight, so that your puppy can pick it up and carry it.
Buy From Amazon
 
Dokken Deadfowl Trainer
Designed to teach your dog how to properly hold and carry game birds. Soft but durable, with a free swinging head.
Buy From Amazon
Hand Dummy Launcher
Not only does this launcher enable you to throw further, but it helps you to teach your dog to retrieve under controlled conditions.
Buy From Amazon
 
Remote Launcher
The ultimate in retriever training technology, launch dummies from a distance to allow better control of your gundog.
Buy From Amazon
Please note that the links on this page are affiliate links.  Totally Gundogs receives a small commission on affiliate sales.  This does not affect how much you pay,  and we very much appreciate your support.