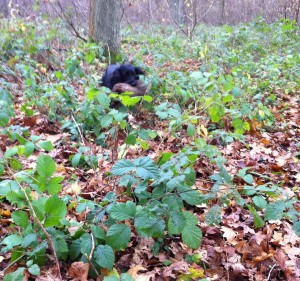 I have spent quite a bit of time over the last few days wading through bramble patches.
Not for my own entertainment you understand,  but to resolve an issue with one of my dogs.
A recent day's shoot has highlighted a little problem with one of my young cockers.
This season has been her first experience of a driven shooting and she has behaved beautifully.
Ignoring Temptation
During one drive last week we were picking up behind a gun who had the very best stand of the day.
Bird after bird fell behind him,  several within feet of my seated dogs,  and one fell twitching and flapping inches from this inexperienced little dog's nose.   To my delight, she was as steady as a rock.[wp_ad_camp_1]However  when I had to sweep through a large area of uninterrupted brambles, it   became clear that she has not had enough experience making her way through such difficult cover.
She was reluctant to follow me and began to panic,  running back to the open ground at the edge of the wood.  
I went to reassure her and brought her back with me again.  Unfortunately, whilst I was focusing on another dog,  she again ran back to the edge of the wood.
Whilst I do not expect a young dog to face punishing brambles for no good reason,  it is essential that my dogs are able to go anywhere I go. If I am walking through an area of thick cover, I expect them to come with me.
The Fear Factor
A great proportion of our shoot is woodland, and much of the woodland floor is covered with brambles of varying height and density.  In the winter these lose a lot of their leaves, but the long trailing branches can get tangled around a dog's body. This makes them feel trapped.
If they hesitate and move too slowly the effect is worse.    It was obvious that I needed to spend more  time helping her to get used to this kind of undergrowth.
So the past few days has consisted of several 'brambly' outings.   Fortunately this little dog is a passionate retriever, so I was able to turn this to my advantage.
I do not let my young dogs pick up very much on their first season.  Most of their time is spent observing older dogs working.  This means that retrieving real  game is a very special treat.
Setting Them Up to Win
On the day after the shoot I took a dozen of the pheasants that had been shot the day before, and planted them in a carefully chosen bramble patch.
This particular area consists of a thin covering of fairly short (less than knee high) brambles.
The picture is a bit blurry, but you can see that the brambles are fairly sparse here.  Nothing too scary!   Some of the pheasants I laid in the open,  some I tucked under branches, a few beneath some brambles.
I then fetched the cocker from the car and encouraged her to pick up each pheasant in turn,  beginning with the easiest ones.   It was a drizzly day, but I was able to take the photo above with my phone.
Growing Confidence
The session went very well.   She was reluctant and hesitant to pick up in the prickliest places, picking her way tentatively and getting trapped a couple of times.  But I left her to work it out for herself, and her desire to get the birds overcame her reluctance to enter the brambles.   She had soon collected a nice pile of pheasants for me to pluck and prepare for the freezer!
My next step would be to build up her confidence in entering tough cover and to get her hunting scent more confidently in this kind of difficult terrain.
I am hoping to have overcome this problem before our next shoot day.
This article was previously published on Pippa's blog in December 2011.
If you enjoy my articles, you might like my new book: The Happy Puppy Handbook
 – a definitive guide to early puppy care and training.