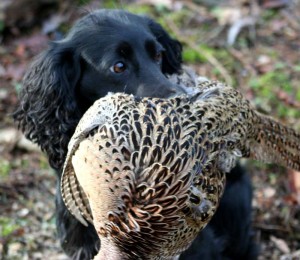 What a difference a day makes.
I have written previously about my concerns over a young cocker, who was having problems facing cover.
We had made some progress.
I had got her retrieving game in amongst short brambles.
We had also encouraged her to follow me,  albeit reluctantly, as I walked through deeper cover.
Unfortunately, she still seemed a long way from being confident enough to hunt and flush game from the brambles. This could be a big issue as they blanket a great deal of the woodland floor on our shoot grounds.
Getting Help
I decided to seek assistance from my other half. On our next walk we took an older dog, the little cocker's  Mum, to flush some game.[wp_ad_camp_1]Himself carried a shotgun to try and get a nice fresh retrieve for our  pupil.  
I took a dead pheasant to plant for her.
Whilst this little dog had been rough shooting in light cover before, she had never been hunted through thick brambles. 
Initially all I was hoping for was that she would follow me without hesitation.
Of course to start with she behaved like a complete wuss.
Getting tangled and sitting down in despair at intervals, as though I had made no progress at all on the previous walks.  Then worked our way closer to one of the main drives on the shoot, where there was more scent and a chance of a flush.
A Little Encouragement
We moved into some lighter cover and planted a retrieve, which Phoebe fetched. Then we slowed right down, encouraging her to explore.   Gradually she began to take a proper interest in the ground scent and began to hunt,  skirting  around the edges of the densest cover to begin with.
I  threw a pheasant into some slightly thicker brambles,  sitting her as I did so,  and sent her for it.   She went straight in for the retrieve,  even pushing through a lot of brambles to bring it out without letting go.
So far, so good.
Growing in Confidence
We walked on,  encouraging her to hunt,  and she started to show a little more enthusiasm and confidence as we progressed on our way.    What we were really hoping for was a flush for her,  but she simply wasn't hunting hard enough to get one,  so we brought her in to heel and set Meg, the older dog hunting.
Within a few minutes Meg flushed a lovely pheasant, which Himself despatched.   At last a nice warm exciting retrieve for our youngster.
She fetched it out of a big bramble patch with no hesitation.
Off we went again walking through more brambly cover.  Bit by bit the young pup began to pick up the pace.  The change in her was a delight to watch.
Now she was really  hunting,  pushing through the undergrowth, following scent.
Even though she didn't make the flush herself as we had hoped,  the close involvement and the fresh retrieve had given her that impetus she needed to stop worrying about getting tangled or prickled.
We stopped on a high, and made our way back to the vehicle with the dogs at heel.  The little dog we returned with, was a very different one from the cocker we had set out with less than an hour earlier.
It is always great to watch a young dog grow in confidence. Whilst we have a way to go yet before Phoebe is as bold and tough as her Mum,  I am sure we will get there soon.
This article was previously published on Pippa's Blog, in December 2011. Phoebe the Cocker Spaniel is now a fully fledged member of my picking up team. 
If you enjoy my articles, you might like my new book: The Happy Puppy Handbook
 – a definitive guide to early puppy care and training.