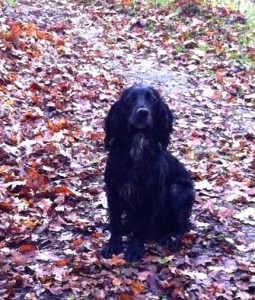 I recently wrote about my little cocker's fear of brambles.
Last week I spent some time planting retrieves in light brambles, to build up her confidence in facing cover.
This week I have spent some time simply walking through cover with her.
Running Away
On the shoot day,  there were plenty of other people around.
This meant that when I walked through an area she lacked the confidence to enter, she was able to comfort herself by running back to other members of the shoot party at the woodland edge.[wp_ad_camp_1]Of course there was no shortage of cuddles and affection from those that she took refuge with!
Our walks this week were very different, as failing to follow me would mean being left all alone.  
I was pretty sure that she would not be happy to be left behind, and would follow me rather than risk being a 'lost dog'.
We Need Some Help
Fortunately I was right and she wanted to stay together. Though initially she frequently sat down and needed encouragement to keep going.   A couple of times she panicked a bit when a bramble wrapped around her neck, but gradually she began to work out how to hop over or wriggle underneath.
This kind of thorny ground cover is very punishing and off-putting to a youngster and it isn't unusual for a young dog to be a bit hesitant at first.  Though this is the most reluctance I have seen in a cocker.
But whilst making progress,  we seemed a long way from a dog that would actually hunt and flush in this kind of terrain. I was beginning to feel some concerns about her overall 'drive'  and enthusiasm.
I decided to seek help from Himself, who he joined me on my next walk with a shotgun.   I'll let you know what happened next time.
This article was previously published on Pippa's Blog in December 2011
If you enjoy my articles, you might like my new book: The Happy Puppy Handbook
 – a definitive guide to early puppy care and training.