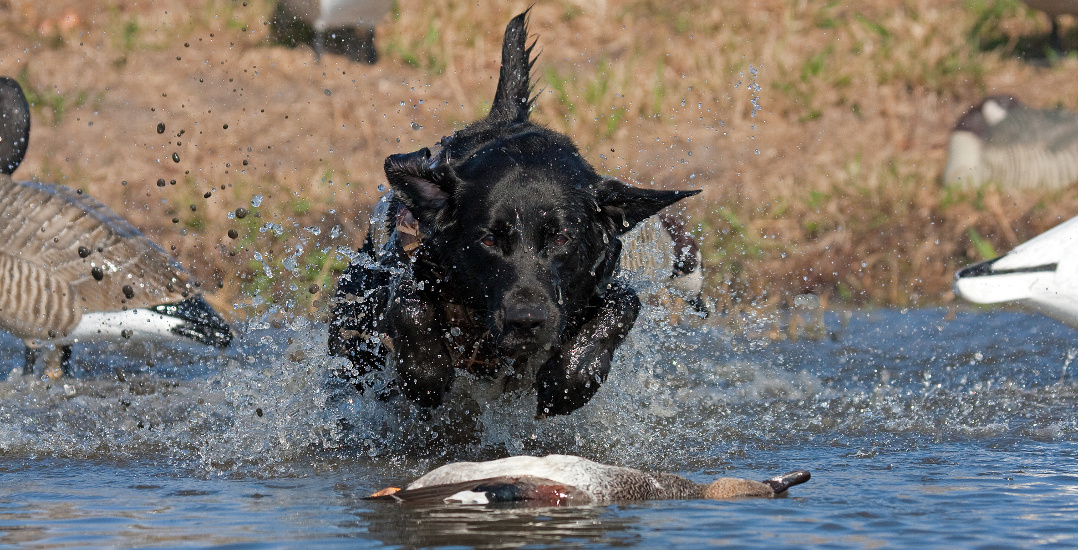 *Sponsored article*
[wp_ad_camp_2]Bought By Many, the company bringing people power to insurance, today announces a new offer for gundog owners in the UK.
All responsible dog owners would agree that their dogs' health and well-being is of high importance to them. However, while pet dogs can get sick often, the claims most of these incidents incur are relatively low (in the hundreds of pounds). By contrast, gundogs may get injured while out on a shoot and, while generally less frequent, claims for these injuries can run into thousands.
Injury to Gundogs
Some of the injuries gundogs can suffer include cuts and gashes caused by jumping wire or jagged and abrasive obstacles, as well as more severe injuries such as cruciate ligaments, lameness, cut pads, and muscular strains.
The different roles performed by the dogs mean injuries can be varied. Another factor is the type of shooting the owner practices – Roughshooters and Deerstalkers will be out on hunts more regularly, often in hostile terrain, whereas an Occasional Shooter's dog will have less frequent trips out, but might encounter other health issues while not working. Finally, Wildfowlers may suffer water-related injuries or illness.
Insurance for Gundogs
At Bought By Many we were surprised when we realised that most basic pet insurance policies will not cover dogs for injuries sustained while on a shoot, many other policies will not pay out twice for the same condition or injury and the majority don't have a clear position. We decided that the pet insurance industry needed to create more options for gun dogs and their owners and we worked with Lifetime Pet Cover to create a policy specifically tailor to them.
Now, gundog owners can get lifetime dog insurance for as little as £22.46 a month from Lifetime Pet Cover when buying through Bought By Many.
Steven Mendel, Co-Founder and CEO of Bought By Many said: "We're delighted to have found an affordable lifetime policy for gun dogs, which are traditionally uninsurable or very expensive. Lifetime Pet Cover offers vet bills cover up to £10,000, and £1m of public liability cover, making it an incredibly competitive offer – even before the 10% discount."
Insurance Options
The cost of lifetime pet insurance from Lifetime Pet Cover compares favourably to other pet insurance companies, even when the latter don't offer cover for gun dog activities. For example, the cost to insure a 3 year old Labrador Retriever in a Milton Keynes postcode is as follows:
Lifetime Pet Cover (£4k lifetime cover): £22.46 per month
John Lewis Insurance (Plus, £7.5k lifetime cover): £26.86 per month
Petplan (Classic, £4k lifetime cover): £30.84 per month
Animal Friends (Superior Plus, £4k lifetime cover): £23.44 per month
More Than (Premier, £12k lifetime cover): £33.67 per month
VetsMediCover (Gold, £4k lifetime cover): £26.91 per month
Lifetime pet insurance is different from annual pet insurance, as it continues to pay out for vet bills indefinitely, with the cover limit being reinstated each year. By contrast, annual pet insurance only pay out for a maximum of 12 months.
About Bought By Many
Bought By Many is shaking up insurance with social media at the heart of its business model. It connects people with similar insurance needs into groups, and uses the group's collective buying power to negotiate offers on insurance that wouldn't be available to individuals.
The concept's simple – the more people who join a group, the better the deal becomes. It also benefits insurers, enabling them to reach the segments they most value, diversify risk, lower dependency on aggregators, and achieve greater profitability.
About Lifetime Pet Cover
Lifetime Pet Cover aim to provide high quality pet insurance in a simple way. They have a straightforward pricing system and application form, with a focus on customer service and rapid claim payments. They pay vets directly, meaning policyholders do not need to worry about settling vet bills.
Interested in learning more? Visit Bought By Many's website here.
*Sponsored article*