Missing out?  Click here to get my new articles delivered to you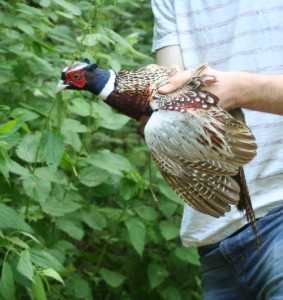 How quickly the months roll around.
It's July already and we are just settling in the first arrivals for the coming shooting season.
Two hundred ex-layers were unloaded, wing clipped, and released into one of our large woodland pens last weekend.
So it begins
And so begins the twice daily routine of feeding, watering, observing and worrying about, the pheasants in our care.
It is both a burden and a great pleasure.
Gamekeeping is a huge responsibility and a tie.  Long summer holidays are out of the question as we cannot  leave our charges for any length of time.
Water is always a big concern as we have lost our main water supply on the shoot.   This means that water has to be brought to the pens in bowsers and containers.
We do set up 'rain traps' in the pens to boost the water supply, but so far, the weather has been glorious.
The pleasures of a gamekeeper's life
Carrying water and wheat, and filling hoppers,  is quite 'physical' so it does help keep us fit![wp_ad_camp_1]And as with all animal husbandry, there is great pleasure to be gained from just being outdoors in the countryside.
In all weathers, seeing to their needs.
The responsibility and daily tasks give life a rhythm, a structure and a purpose.
For me personally the biggest bonus is the benefits to my dogs.  
Watching birds being fed and watered each day, going in and out of pens, and being constantly exposed to the sight and sounds of the birds on a daily basis, is a great steadying influence on a gundog.
Two phases
Our pheasants arrive in two phases,  ex-layers first, followed by poults later in the summer.  Ex-layers are adult pheasants that have produced the eggs necessary to provide the next generation of baby pheasants (poults).
The majority are hens, but there are always some cocks amongst them, like the handsome fellow in the photo above.
Some shoots put down only poults and some put down only ex-layers, we usually have a combination.
There are pros and cons to releasing poults versus ex-layers.  Poults can be more susceptible to illness, and more vulnerable to bad weather,  whereas ex-layers are 'street-wise' and know how to look after themselves.   The main downside to ex-layers is the longer period of care required as they arrive earlier than poults do.
Wing clipping
We clip a few feathers from the wing of each bird before releasing it into our pens.
This prevents the pheasant flying out of the pen until the new feathers grow out and ensures that they are nicely settled into their new home before they begin exploring the farm.
Inside the new pen,  the birds are protected from foxes and badgers.  Once they begin to roam, they will be more vulnerable, so it is important that they know their surroundings and have familiar places to roost before being given their freedom.
The meadows are cut
Another seasonal change is the result of the annual hay crop.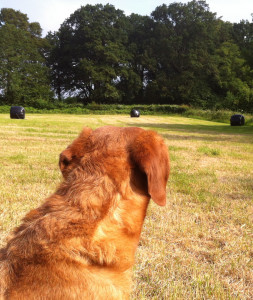 The meadows have been cut this week and this is a great opportunity for me as it provides me with lots of short grass to train on.
For the next couple of weeks at least, until the grass grows up again, my dogs will be able to see the dummies where they land.
We can once again practice retrieves that work best with a clear sighting of the dummy.
Tess is surveying the meadow with approval, and probably hoping she will find some nice fox poo to roll in!