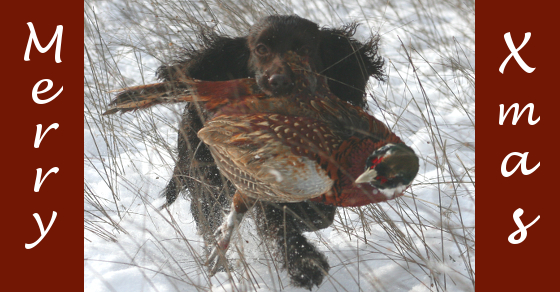 Christmas has finally arrived, and we are all starting to relax and get into the festive mood.
Hopefully the frantic shopping is done, and the presents are wrapped and ready under the tree. You might have even started preparing for that impressive Christmas dinner tomorrow!
2014 has been fun!
We have had a fun year here at Totally Gundogs, bringing you more tips, information and training exercises to help you enjoy your gundogs.
From the greenest youngster to the most accomplished old-hand, our gundogs have all added something special to our lives this year.
And hopefully a fair amount of game to your bag, too!
We have had over 200,000 visitors to Totally Gundogs in 2014, double the number who came last year, and find great hope and encouragement in this for the future of our sporting dogs.
Happy Christmas
Thank you for joining us at the site, and we hope that you and your gundog will have a really wonderful Christmas together.
We can't wait to bring you lots more training articles and working dog tips next year.
Wishing you a very Merry Christmas,
 Pippa & the Totally Gundogs Team.