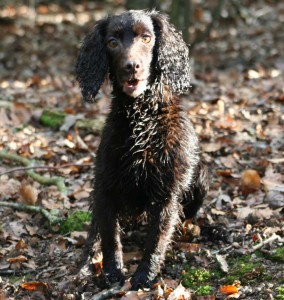 Many keen gundog owners consider having lessons from a professional gundog trainer at some point.
And I really recommend that they do.
There is nothing quite like the personal touch from a good trainer that has met and understands your dog.
There are however some precautions that you need to take.
We will have a look at those in a moment.
The personal touch
There are  many techniques that are better demonstrated than learnt from a book, and you will often get  more appropriate advice from an experience gundog trainer that has observed your dog himself,  than you  will from a book or a from a gundog forum or website like this one.[wp_ad_camp_1]An experienced trainer will have trained dozens if not hundreds of  people to successfully train their dogs. 
It is worth remember that, unless you want to send your dog away to be trained,  a good instructor is really training you,  rather than your dog.
His previous experiences will mean that whatever your problems are,  he is likely to have come across them before. 
Let's have a look at some precautions that you need to take before looking at where you need to begin to find a good trainer.
Traditional gundog training methods
Gundog training methods have traditionally been based on a mixture of rewards together with some punishment/corrections.   As gundog training progresses dogs are motivated by high value rewards such as retrieving and hunting.  In early basic training most traditional trainers use low value rewards such as praise and petting.
Modern dog training methods have changed significantly over the last few years,  and most dog trainers now incorporate a higher proportions of rewards,  higher value rewards (food/toys etc), and fewer corrections, than they used to.
Unfortunately not all professional gundog trainers have kept up with the latest developments in dog training methods and principles,  and some training today,  still use what many people would consider to be harsh training methods.
A few, I am sorry to say, even border on abuse.
You are more likely to meet with rough handling of dogs in spaniel training circles than in retriever training circles and this is because some of the skills we teach spaniels are very difficult to instill effectively without punishment.
Where there is punishment there is inevitably sometimes harsh punishment,  though this is less common than it was.
 Anyone can call themselves a dog trainer
Remember that anyone can call themselves a dog trainer.  There is no nationally recognised training scheme for gundog trainers,  and though the Kennel Club run an accreditation system for dog trainers,  this is currently largely self-assessment and is not performance based.
There are no exams on canine psychology which gundog trainers must pass in the UK before practicing on other people's dogs,  and in some cases dog trainers' knowledge falls far short of acceptable.
Having said that, there are some outstanding trainers out there.   So how do you find one?
Finding a good professional gundog trainer
A great way to find a good trainer is by word of mouth.  Unfortunately many new gundog owners do not know anyone who has been to a gundog trainer.   And some have friends that have had a bad experience with one.
The Gundog Club runs an Accreditation Scheme for  gundog instructors.   It is called the Affiliate Instructors Register.
All the instructors participating in the scheme are vetted to ensure that they are competent gundog handlers with experience training others.  All Gundog Club instructors have their references checked and agree to refrain from using harsh training methods in classes or on student's dogs.
Trainers can, and have been, removed from the scheme,  if they break the rules.   It is well worth checking to see if there is a Gundog Club Instructor in your area.
It is worth being aware that occasionally you may come across a trainer using the Gundog Club's Graded Training Scheme material in order to pass themselves off as a Gundog Club instructor.
If in doubt just give the Gundog Club a ring and they will confirm whether or not that trainer is indeed a Gundog Club Instructor
If you cannot find a GC trainer locally, it is worth looking through the Association of Pet Dog Trainers website as a few APDT instructors have some experience with gundogs and will be able to get you off to a good start.
You can also look on the Kennel Club's list of gundog Field Trials and Societies,  as your local club should be able to recommend a trainer to you.
If you have problems with a professional gundog trainer do report back to the Kennel Club,  your local Field Trial Club and the Gundog Club, because without your feedback,  rogue trainers will continue to practice on other people's dogs.
Your first lesson
Once you have found a good trainer it is a good idea to book a one-to-one lesson before attending a course.  This enables your trainer to iron out any little problems that might prevent your dog from benefiting from a group situation.
Dogs participating in group  lessons do need a basic recall and to be willing to carry a dummy if they are to get the most from their training and not disrupt the rest of the group.
The cost and benefits
Professional trainers really come into their own when it comes to helping you build a relationship with your dog and restoring a sense of being in control.   They will help you resolve retrieving and distance control issues that can be disheartening to work away at on your own.
A trainer will usually have access the facilities that you would not otherwise be able to access,  for water training,  working in cover, etc.  And will be able to help introduce you to real fieldwork when you are ready.
You can pay anything from £15 to £50 an hour for gundog training and the most expensive is not necessarily the best.  Prices tend to be higher in the South of England than in the North and South West.
It might seem a lot of money but if you need help it really is money well spent.
If you enjoy my articles, you might like my new book: The Happy Puppy Handbook
 – a definitive guide to early puppy care and training.