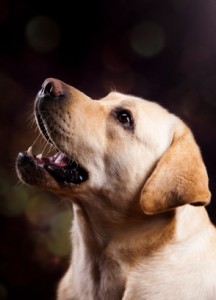 The clicker is a brilliant tool for establishing new behaviours.
But there are very few gundog trainers that are skilled in its use
So if you attend gundog training classes, you will probably find yourself using more traditional methods
Mixing clicker training and more traditional gundog training methods can be done.
When you are at home, you can continue to clicker train,  but you will need to follow a few simple rules to avoid confusing your dog.
One method per skill target
If you are teaching your dog to sit with a clicker,  set a target you wish to achieve  –  a five second sit for example and stick to clicker training until you have reached your target.[wp_ad_camp_1]This will allow you and your dog to get the best from the method, it will keep his confidence high, and help you to learn to work the method.
Avoid all corrections or aversives of any kind during a clicker session as this will interfere with your dog's willingness to offer changes in behaviour.
Without changes, you cannot modify or improve on what you have – it is the constant changes from which you select and mark the behaviour you desire which allow rapid learning to  take place.
One method per session
If you are teaching two skills with different methods  –  for example, a clicker sit plus some traditional heelwork  –  I recommend you keep the sessions separate.
Don't mix the two techniques in one session.   It might not do any harm,  but it makes sense to avoid confusion.
Clicker training the basics
A clicker start in life can be very useful especially if you are intent on starting to train a small puppy.  The transition to more traditional methods later on if need be,  should not pose any problems for your dog if he is over five or six months old.
The confidence your early stress free training has given him will stand him in good stead,  and provided you are judicious, moderate and fair in administering any form of aversives or coercion as  you progress to fieldwork,  your dog will not come to any harm.
Clicker training to resolve problems
Sometimes in training you will come up against a seemingly intractable problem.  Sometimes a clicker solution will help you.   This is particularly so with regard to retrieving problems where any kind of force can put a dog off for good.
Clicker solutions are sometimes regarded with derision in the gundog community.  This is a great shame as the clicker is simply one version of a powerful tool known as an event marker.   You can find out more about event markers on the Totally Dog Training website
Clicker work will benefit your training skills
You will often hear clicker trainers say ' I train using operant conditioning'.   Well that is true for them,  but it is true for all other trainers too.
We all use operant conditioning,  that is how dogs learn.
But you are far more likely to succeed with operant conditioning when you understand how it works.  And clicker training will give you that understanding.  On a plate.
You may get hooked!
Many people that start clicker training with gundog puppies, and to resolve retrieving problems, find themselves applying clicker training principles to more and more of their training.
You may find yourself getting hooked on this fascinating skill, but that is no bad thing
Learning to clicker train helps you focus on the factors involved in operant conditioning.  It also helps you learn how to break training down into small achievable steps and teaches you to be objective and  patient.
You may enjoy reading more about the advantages and benefits of clicker training
If you enjoy my articles, you might like my new book: The Happy Puppy Handbook
 – a definitive guide to early puppy care and training.