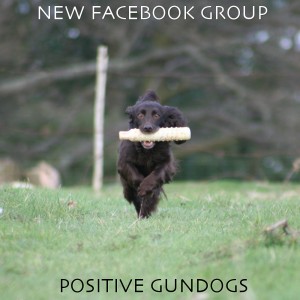 On Tuesday, I acted on a bit of a whim
We often chat about clicker training on the gundog boards in my forum.
Following one of these chats on Tuesday morning, I set up a Facebook Group called Positive Gundogs
The idea was to set up a place were we could continue our chats, but also tap in to the wider pool of knowledge and experience that exists outside the forum.
I knew we would need a minimum number of members in order to generate enough conversation to keep people interested, and was hoping for maybe a hundred members for the new group by the end of the week.
A new community
The group has been open a couple of days now and we have over five hundred members![wp_ad_camp_1]It is heartening to see so many gundog people interested in modern training methods.
We are gathering together quite large pool of expertise and skill.
And building a new community of people sharing a common interest.
There is a wide range of knowledge and abilities. From those that have no interest in competing with their dogs, to seasoned campaigners.  And from those who are just dabbling in clicker training to some very experienced force-free gundog trainers.   This is ideal.
It is my hope that this new community will be a place of learning and fun,  and if you would like to come along and say hello, you will be very welcome.
Everyone is welcome
Unlike some force-free groups, we do not ban discussion of other methods, nor do we ban people who still use traditional techniques for all or part of their training.
Everyone is welcome as long as they treat other group members with respect,  and acknowledge that most group members are there looking for positive solutions to their gundog training issues.
What do we mean by positive?
There is often some confusion over the term 'positive'.   Essentially the aims of the group is to enable discussions about training gun dogs with minimal force.
As one group member explained yesterday "we are not just looking for a positive outcome, we are looking for a positive training process"
Specifically the group aims to discuss and promote positive reinforcement training.
You can find out more about that in this article Operant Conditioning in a Nutshell for Gundog Trainers,  and in this one: What is Positive Reinforcement Training
Does it work?
Obviously, before getting involved in new or different ways of training, it is reasonable to question whether these methods actually work.  This is one of the reasons I don't want to ban people discussing the pros and cons of these and other training techniques.
You don't want to pour hours into training your dog, only to find it all falling apart months later.
I am going to be looking at the evidence for the efficacy of positive reinforcement training in another article,  but fortunately there is now plenty of it. We now have retrievers trained with positive reinforcement succeeding in field trials.
The jury is still out on whether we will ever see a FTCH spaniel trained with no aversives at all,  but discussing and implementing techniques to modernise spaniel training is an important topic that we'll be addressing in the group
Come and say hello
If you are interested in finding out more, or simply want to see what we are all up to, you are welcome to join us.
Here is the link:  Positive Gundogs.   Come and say hello.