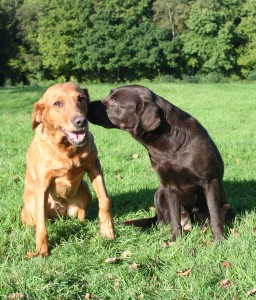 We are nearly ready for the season!
Our first shoot is coming up very soon.
Yesterday we finished putting out the last of the gunstand markers.
We couldn't do this any earlier as we had to wait for some of the fields to be ploughed first.
I am taking every opportunity to increase the dogs' fitness before they get back to work.
So I left a tennis ball at each of the markers, and sent the dogs, in turn, back down the line for them when we finished.
Rachael's progress
Most of the stubble has gone now,  and what with the birds spreading out over the farm, I am more restricted in where I can take Rachael.
[wp_ad_camp_1]
Although I haven't done nearly enough training with her this year, due to my writing projects,  I have been careful to ensure that she has not developed any bad habits.
She is still very playful and quite immature, but her obedience is good, and basic retrieving is coming along nicely.
And she is now able to contain her urge to bounce on the other dogs, though as you can see above, she does still sometimes 'interfere' with them if they are sitting close enough!
We are working on simple blinds at the moment, with lots of practice running short distances to a number of different 'permanent blinds' including my portable permanent blind, which is this yellow bucket.
This short clip shows her enjoying a session on the stubble last week before it was ploughed in.
Building confidence and good habits
Permanent blinds are great confidence builders.  Rachael doesn't get to see me throw the dummies, I place them by the bucket before I fetch her from the car. But, she runs out with confidence because she knows that the yellow bucket means dummies will be there.
Rachael has been into the pheasant pens and is calm around the birds, and comfortable with gunfire,  so she can come out as a spectator on one or two drives over the next few weeks.
How much more she is able to do, will depend on how much time I get to spend training in the weeks to come.
We had some great captions for the photo above of Rachael and Tess, when I put it up in the forum!  You can check them out here  Enjoying the sun
No plucking in daylight hours!
With the shooting season underway, it was interesting to read this article in yesterday's Mail.
Four Oxford Brookes freshers uploaded pictures of the carnage caused when they plucked 17 partridges in broad daylight,
Apparently, meat preparation should now take place under the cover of darkness, lest we offend anyone that isn't aware that the birds we eat come with feathers on.
I'm not quite sure when plucking a dead bird became an act of carnage, perhaps someone should tell my local butcher..
Heartening though, to see there are some sensible remarks in the comments section.
Hope you are enjoying the new season!
If you enjoy my articles, you might like my new book: The Happy Puppy Handbook
 – a definitive guide to early puppy care and training.