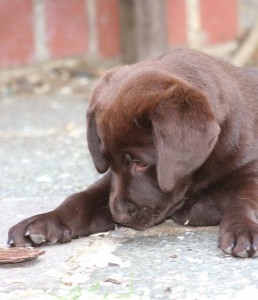 Rachael woke at two to three hour intervals throughout last night.
Which is a bit draining if you like your sleep as most of us do!
Anticipating the moment
I do like to try and anticipate the point at which a puppy will need to relieve himself in the night.  If you can wake the puppy before she starts to cry,  this helps avoid a crying habit being established.
Rachael went off to sleep at bed time without any trouble.
But she awoke after a couple of hours and was pretty miserable on and off for much of the night.   I did not manage to pre-empt the crying by waking her before she got upset,  because the gaps between waking and crying were so short.
Not a bladder issue?
It's early days yet, but I get the impression that Rachael is not crying because she needs a wee.  She  goes quite long stretches between wees during the day,  and doesn't really need  a wee when I let her out at night.
The little pup does not seem to mind being alone for a little while when she can hear us moving around during the day,  but I suspect that the still and silent house at night is creeping her out.
 Some options
We have various options we can use to get around this.  Her crate could be moved into our room.  We could just let her 'cry it out'.  We could put a radio in her room with her.  Or we could bring in another dog to keep her company.
We will probably see how she goes tonight before trying a different approach.
We are early risers and like to be up soon after six.  So I give Rachael her first meal of the day at around 6:30
Unlike me,  after breakfast, Rachael was full of the joys of spring, and keen to start the day!