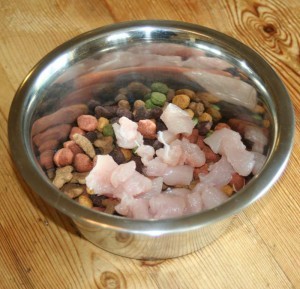 Our dogs are all fed on a diet of raw meaty bones.
Rachael on the other hand, like most Labrador puppies, has been raised on kibble.
This is simply the standard dried and pelleted commercial dog food made based on carbohydrates with added protein, and the other nutrients which dogs need.
I will gradually be switching Rachael on to the raw diet that our other dogs eat.  But whilst I am keen to get her off the carb based kibble,  I need to do this carefully so as to avoid upsetting her stomach.
Puppies very often have digestive upsets in the first few days in their new home.  Largely due to the stress of being taken into an unfamiliar environment.  Sudden changes in diet can exacerbate this and make a pup quite poorly.
A little bit of chicken
Rachael has had no upset tummies so far,  and on her second day here  I made a start on the changeover by adding a tiny amount of chopped raw chicken breast (just half a teaspoon) to each of her last two meals.
Yesterday, day 3,  I went a step further by increasing to good teaspoon of chopped chicken with her kibble at two of her meals,  and an entire chicken wingtip with her kibble at each the other two meals.  She was seriously impressed by these and scrunched them up without a flicker of hesitation.
Leaving kibble behind
Today, for her breakfast (above), Rachel had half a small,chopped chicken breast and half kibble.  She will be having a whole chicken wing for her lunch elevenses,  some kibble for lunch,  and more chicken for supper.  If all continues to go well, I hope to have her entirely off kibble and onto chicken by the end of tomorrow.   Then I will begin to add different meats, including fish, into her diet.
I have only been able to go at this pace because Rachael has had no tummy troubles.  It is important that she gets enough bone in her meat to supply her rapidly growing body with sufficient nutrients for the proper growth of her own bones,  so I am keen to get her onto meaty bones rather than just muscle meat,  fairly promptly.
But we will take this in stages and see how she progresses.
You can find out more about feeding dogs on a raw diet in this article on the Labrador Site   Switching to raw
Footnote from Rachael: "Things I learned today"
The dinners here just get better and better,  the grown-ups are giving me crunchy meat now,  like a proper dog!
Grown up humans are not very brave.  They shout 'OOWWW'  and stop playing when I bite them hard.
The red things hanging on the plant by the back door are not kongs.  Apparently they are 'Jamie Oliver's mild chillis'.  But I don't think they are as mild as Jamie makes out.