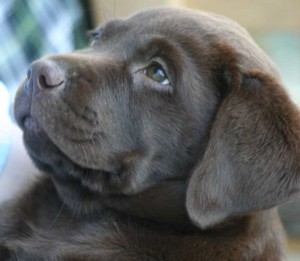 Last night was Rachael's fourth in her new home.
The progress of the previous night was not repeated.
I put Rachael into her crate at 11pm, a little earlier than the night before.
And set my alarm for 4:00 in the morning.  But we didn't make it that far.
Rather like the second night,  Rachael was not at all happy.   And after sleeping for an hour or so,  proceeded to cry on and off for much of the night.
Trips outside were not productive and she certainly is not desperate to pee.
The cumulative effects of a fourth night without much sleep are beginning to show and I will probably need to avoid driving today.
Lonely and homesick
The path to an unbroken night's sleep rarely runs smoothly and no two puppies are the same in this respect.
I have had puppies that never need to go out between midnight and six am,  and others that have to left with the crate door open and allowed to wee on paper because they need to go empty their bladder so often at night.
I have also had puppies that settle on the first night,  and others that get progressively more upset at night, as the first week progresses.
Rachael was still sleeping with her Mum at night when we collected her,  so being alone all night must feel very strange.   During the day she seems very happy and content,  but  I think she is still very lonely and homesick at night.
Two is company
If you don't have any other dogs,  the puppy with poor bladder control is sometimes easier to manage than the pup who is just really homesick or lonely.
The puppy that howls all night because she is lonely,  is normally comforted immediately by the presence of another dog.
There seems to be no point in putting Rachael through another night of upset,  and us through more sleep deprivation  when we have other dogs that could be room-mates with her.
So tonight,  we will try putting the puppy to bed with our older Labrador Tess in the same room to see if that does the trick.  I reckon it will.   But I could be wrong.
I'll let you know what happens!