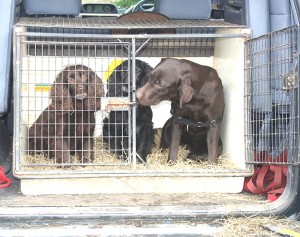 We have been practising Rachael's new delivery to hand, at home in the garden.
I was now ready to take her down to the farm and begin some 'proper' retrieving.
We also needed  to re-establish a basic heel/sit/stay out in this more distracting environment.
Rachael will be wearing a harness and long line to begin with as there are still plenty of pheasants about on the farm.
First trip to the farm
This was Rachael's first trip to the farm for a while.  There are all sorts of other skills that come along with being taken out in a vehicle (with other dogs) for training,  and we will be working on these as we go.
The first I had to deal with was a little bit of 'whining'
Whining
Rachael made a few small 'whiny' noises when I switched off the engine after driving onto the farm and parking up.  This is not surprising as she associates the feel of going 'off road' with having fun.[wp_ad_camp_1]She may have whined like this in the past,  however, until recently I had a truck with a separate cab.
So I would not have been aware of noise at this low level.
Noise in the vehicle is a big no-no  for several reasons.  Firstly because I don't like it.
But most importantly because it tends to escalate  if not nipped in the bud.    A lot of people fall into the trap of letting the dog out of the car whilst whining (or shortly afterwards) and thus rewarding this habit, which then increases with every journey.
Fortunately I had bought my flask with me,  so I settled down with a cup of coffee, to wait for Rachael to relax.   Eventually I heard her lie down and sigh, then all went quiet.  This was my cue to get Rachael out.
Heel / sit / stay
I often start a training session with a little heel/sit/stay routine.   This establishes the concept for the dog that she is here to work,  not to play,  and that getting out of the vehicle is not a reason to get in a  quivering state of excitement.
My first heel/sit /stay session with Rachael was very simple and went like this.  Rachael must
Walk 5 yards at heel and sit when I stop
Remain sitting whilst I remove the lead and stand next to her for 5 seconds
Walk on at heel off lead on command,  five yards, sit when I stop
Remain sitting whilst I walk 5 yards away in any direction (I vary this) and return
Each time I return and reward her,  then we walk on another 5 yards at which point I may do any of the following
Walk around her in a five yard circle
Walk 5 yards away and wait five seconds before returning
Walk behind a tree for five seconds
And so on.  You can see that the number 5 figures quite a lot,  and using just one number like this is entirely for my benefit.  I jot down the number and if all went well,  next time I will increase it to 7 and then 10 and then 15.  etc.
It just helps me remember where I am at,  and lets me build up time and distances gradually.
I always break heelwork up like this with a young dog,  I never walk more than a few yards without either a sit or a change in direction.   This helps to ensure the dog doesn't make mistakes through losing concentration on where her position is meant to be.
The first retrieves
My next objective was to get a simple retrieve going out here.  I had a dummy tucked into the back of my belt, but to start with I just did a few 'hand touches' to get Rachael focused on the objective of putting her mouth against my hand.
Once Rachael had bumped my hand firmly with her nose a couple of times I threw the dummy just a short way in front.
Rachael delivered to hand and I threw it out again, this time she ducked her head away as she reached me.  I interrupted her with an 'ah-ah' and she dropped the dummy on the floor (she hates any kind of disapproval).  I stood and waited and she picked the dummy up and delivered nicely, pushing it hard against my hand.
This is one of the lovely things about the clicker delivery, it doesn't matter how many times the dog drops or fumbles the dummy (and a soft mouthed dog will often do this initially),  she will always pick it up again.  With a traditionally taught hold,  very few dogs will pick up the dummy once dropped,  unless it is re-thrown.
We then did two more retrieves, rewarding the last one with food,  and Rachael was perfect both times, giving me a really nice standing delivery with her head held high.
Running In
I haven't steadied Rachael to fall yet.  I allow her to charge out after the dummy as I throw.
I will probably steady her up quite soon as she is so keen,  but I want to make sure I have the retrieve well established first.
Alone in the vehicle
After putting Rachael back in the vehicle, I took the spaniels out for a while.   Waiting in the crate whilst other dogs get in and out, is quite difficult for a puppy but Rachael has practiced this in the crate at home and she did well.
I was pleased that Rachael didn't cry when left alone.    If she had done so,  I would have left one dog with her next time,  so as not to get a fussing habit established.
More visits to the farm
Over the next few days we made several more trips to the farm.   I repeated the heel/sit/stay in different areas,  sometimes in woodland,  sometimes out in the open.   And introduced some very short periods of heelwork and stay off the track where scent is stronger and there are more temptations.
Once we were away from the harder surface of the tracks, Rachael found it quite hard not dropping her head to sniff at the ground,  and we are going to need to practice this regularly.
I am still having to wait a few minutes after switching off the engine for Rachael to 'settle down'  but apart from that her behaviour in the vehicle is excellent.
Her delivery is holding up nicely and I will need to 'rope in'  a thrower soon to give me some longer 'marks' for her.    I will also be steadying her to fall in the next week or two, and introducing Rachael to heelwork and stay amongst the other dogs.
All in all a nice start and a good week's work for Rachael
If you enjoy my articles, you might like my new book: The Happy Puppy Handbook
 – a definitive guide to early puppy care and training.