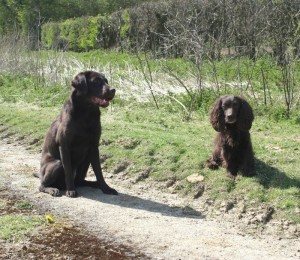 Yesterday I made a start at integrating Rachael into my group of dogs for our outdoor training sessions.
Up until now,  she has been trained and exercised separately from the other dogs.
Rachael is used to sharing a crate at home and in the vehicle,  but any attempts to play on her part, are firmly rebuffed.
Rachael is however an eternal optimist,  and she lives in hope.
Heelwork around another dog
Yesterday, in training, we made a start with walking to heel around the other dogs.
I fetched a spaniel from my car and sat her at the side of the track where Rachael and I were going to practice some heelwork.
We began on the lead and set off towards little Meg.   Rachael loves Meg with a passion.  A passion, I have to say, that is not even slightly returned.
We walked up and down giving the spaniel, a wide berth.  As we drew closer to her,  I rewarded Rachael more frequently with little lumps of cheese.
We walked here and there, around Meg,  for several minutes,  gradually getting closer.  Initially Rachael was very distracted and focused on the other dog, but gradually she relaxed and accepted that  she would not even be permitted to go and say hello.
Once I had her attention fully on me again,  I reduced the food rewards a little.   We finished the exercise with some sit-stays near to Meg.  Rachael has done sit-stays with Meg at home,  but not out here on the farm.   This was fine, and Rachael made no attempt to move.
We then moved quite a bit further from Meg and began some dummy work.
I walked Rachael up and down at heel for a bit, with the dummy tucked into the back of my belt,  intermittently bringing it out and asking her to hold and carry the dummy, and then to let go of it.  We practice the delivery quite a lot in this controlled way as I find it calms her and reduces her tendency to get overexcited and sloppy.
Rachael's delivery is not perfect yet, but she is improving
Steadiness
Rachael's favourite thing in the world is a retrieving dummy.   The very sight of it has her poised to erupt into a burst of speed as she flies out to retrieve.
I have left it quite late to 'steady' Rachael as, bearing in mind her ancestry, I wanted to be really sure of her passion for retrieving before beginning.
This is the method I normally use to begin training a dog to be steady to fall:  Introducing steadiness to fall
I sat Rachael up on the track, and walked a few steps away,  pulling the dummy from my belt and showing it to her.
As I suspected, just the sight of the dummy was enough to tempt her to move towards me, and I stopped her with a firm 'NO'!
It was clear that if I dropped the dummy on the ground,  I was going to be involved in an unseemly wrestling match with a 60lb Labrador as she shot towards my feet to grab it.
Instead,  I tucked the dummy back into my belt and walked back to Rachael and rewarded her for sitting still.  We then moved on a few paces at heel and repeated.
After several repetitions, Rachael began to relax as I produced the dummy.  I was able to lower it gently towards the ground,  all the while keeping one end firmly in my grasp,  then raise it back up again, all without her moving at all.
We ended on that successful note.  It is a very small start, and I think it is going to be a few days before I can throw a dummy over Rachael's head whilst she sits and stays!
But we will get there.
If you enjoy my articles, you might like my new book: The Happy Puppy Handbook
 – a definitive guide to early puppy care and training.