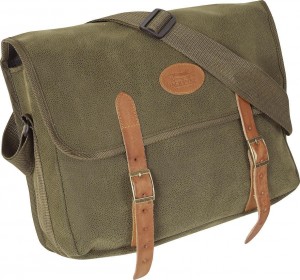 We all need a good shoulder bag when out training our gundogs.
Training your dog frequently requires your hands to be free.
Not just allowing you to give hand signals and move easily around.
A strong shoulder bag can also help by keeping all your dummies safely off the ground away from your dog, and in one place for your quick access.
Jack Pyke Hunting Dog Bag
Designed for use in the training and shooting field, for working dog owners.
This bag is made from a tough, heavy-duty material.
In traditional colours, with leather fastenings and detailed trim, it looks great too.
It also has a long, adjustable strap, so it should fit comfortably on anyone's shoulder.
Available to buy from Amazon here
.
Please note that the links on this page are affiliate links.  Totally Gundogs receives a small commission on affiliate sales.  This does not affect how much you pay,  and we very much appreciate your support.