This was originally published almost exactly two years ago, on my first blog.  As it is that time of year again, I thought it might be a good idea to move it here, and to highlight the risk to these vulnerable creatures in May and June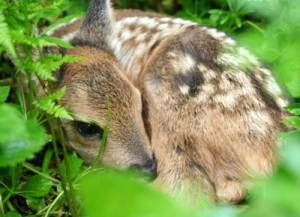 I was fortunate this morning to have the opportunity to photograph this little beauty.
There are a fair number of roe kids born on the farm every year.
Many roe does have twins,  and there is a thriving roe population throughout this part of South East England.
Despite the number of deer it is quite unusual to find a kid.
This little ball of fluff was probably a few days old,  and curled up was not much more than twelve inches across.
Survival strategy
You are probably aware that roe does leave their kids alone like this for quite long periods of time,  until they are mobile enough to keep up with Mum and outrun predators.
The mother deer visits the kids to feed them and will bounce away, flashing her white behind,  to distract any predators that approach.
Keep still!
As soon as Mum leaves, the kid will instinctively lie down  and keep very still.   That is its survival strategy.  And roe kids like these, are often very difficult to spot.[wp_ad_camp_1]Initially the only thing that gave the game away was the tiniest twitch of the tips of this little one's ears.
Not all roe kids are as well hidden as this one.  
Sometimes the mother will leave a kid right out in the open.  
Even when this happens, the baby has not been abandoned.
The roe doe will usually hang around not too far away.   She doesn't forget where she left her baby and she will always return once you have left.
When the strategy fails
This survival strategy of remaining completely immobile, unfortunately fails when uncontrolled dogs are allowed to charge around the countryside and/or when misinformed members of the public come across these adorable little creatures and assume that they have been abandoned.
Roe kids are killed by dogs every year.  And others are picked up by walkers.
Do not disturb
If you come across a wonderful sight like this,  it is important not to touch the kid or disturb the area that it is hidden in.   We took a couple of photos and slipped quietly away.
What a lovely start to the day