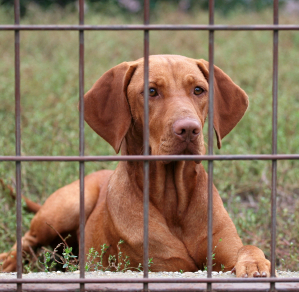 People kennel their dogs for all sorts of reasons.
In some countries, kennelling is more popular than others.
Some of the most common reasons for keeping gundogs in kennels are
Multiple dogs
Mess
Working families
Avoiding bad habits
Multiple dogs
This is one of the reasons I currently kennel some of my dogs.    Coping with four or five dogs in a relatively small house has its disadvantages.  The problems of one dog are in some cases more than multiplied
Mess
Gundogs make a lot of mess.  No matter how well you towel them down after exercise,  a certain amount of muddy water comes in on their coats.[wp_ad_camp_1]As the dog dries,  this turns to dust and when the dog moves around,  this dust is distributed around your house.
You can soon see the extent of this if you lift up a dog bed in the morning.   
If your dog or dogs sleep in a confined part of the house, you will notice how much dustier this gets than your other rooms.
Gundogs also shed a lot of hair.  Some more than others and at times, during moulting, this can be profuse.
If anyone in the house has asthma,  the dust and hair generated by the dog could be a further disadvantage.
Working families
Times have changed and nowadays most women work.  In many families both adults are out at work all day.   It simply is not appropriate to leave a dog shut indoors without access to anywhere to toilet for a full working day.  And doggy day care is expensive.
A properly designed kennel enables you to go to work knowing that your dogs will be comfortable and able to relieve themselves whenever they want to.
Avoiding bad habits
This is probably the most compelling reason for many serious gundog handlers to kennel their dogs.
A dog that is living in a house with his family,  especially where there are young children present, is being influenced by many different people.  If those people do not share your ability or desire to control the consequences of your dog's behaviour,  problems with training are quite likely to arise.
A kennel protects your dog and his training from adverse influences.
But the benefits of a kennel do not always outweigh the disadvantages
Disadvantages of kennelling
There are some disadvantages to kennelling a dog
Harder to keep dogs clean
Problems with sick dogs
Security
Noise
Keeping dogs clean
Most kennels have a two major design flaws.
They are not properly washable
The door is in the wrong place
In the UK,  dog kennels tend to be made from wood with a wire mesh outer run placed on a concrete base.
It is not easy to wash down a wooden kennel and keep it really clean.   And concrete is porous.   The ideal fabric for a dog kennel is washable tiled surface indoors and a sealed washable tiled floor in the run.
A dog will always attempt to empty itself as far away from its sleeping quarters as possible.   Most kennels are designed to allow you to fetch the dog in and out via a gate at the end of  the kennel 'run'.    The sleeping area is usually at the opposite end.
Everytime anyone goes near the kennel the dog will rush to the gated end of the run in anticipation of being let out.  In doing so he will run through any poos and wees that he has left by the door.
Small quantities of mess then get caught in the hairs of his feet and walked back into his sleeping quarters which are usually made of absorbent materials.
Any bedding or blankets you provide for the dog is likely to be dragged out into the run and will quickly get filthy.   This means that sleeping surfaces usually need to be bare wooden boards or some kind of nailed down softer fabric which gets quite smelly over time.
Some people experiment with a 'litter' system for the floor.  I have tried both shavings,  and straw, in the past.   Straw smells wonderful when freshly laid but most dogs no matter how clean otherwise,  will wee in straw.  So it needs changing very regularly.   Large wood shavings like those used in stables can work,  and smell good,  but again, some dogs will wee in them.
The main problem with a litter system is disposal,  getting rid of large quantities of contaminated straw or shavings can be a problem unless you have space for a 'muck heap' in your garden.
I have come to the conclusion that even if kennels are washed down daily with disinfectant (which is quite time consuming) it is hard to keep your dogs as clean and sweet smelling as dogs that live indoors.
Problems with sick dogs
If your kennelled dog becomes ill there may be more of a delay before you realise there is a problem and get him to a vet.  When a dog is with you in the house all evening,  you are more likely to notice the symptoms of a serious condition like 'bloat'  or 'pyometra'.
If a sick dog needs nursing,  this will be challenging in anything but a state of the art kennel.   So you will probably need to bring him indoors.
If he has never lived in the house,  this can be difficult to manage.
Security
Gundogs are a popular target for thieves.  Every year kennels are broken into and dogs are stolen.  This is utterly heartbreaking and achieving a good level of security around kennels is not easy.  Padlocks and chains can be forced with bolt croppers.
A kennel tells the intruder that you are probably out during the day.  CCTV can help,  but won't stop a determined thief.
Noise
This is perhaps the biggest issue for many people that are considering kennelling their dogs.
It is very important to make sure that dogs in kennels cannot watch people passing by on a path or pavement.   Passer-by syndrome  is difficult to stop once started.  Because passers-by disappear as the dog barks,  he is encouraged to bark more and more.  So you do need to make sure that your dog cannot watch people walking past his kennel
A dog on his own is also likely to bark through loneliness.  This kind of barking can arise at any time,  though it is more likely in the first few weeks of being kennelled.   Settling a dog into a kennel a little bit at a time can help avoid the problem.  Once started it is extremely difficult to cure.
 To kennel or not to kennel?
It is not an easy or straightforward choice,  and you will need to balance up the pros and cons that are most relevant to your own situation. If you work all day, are keen to achieve a high standard of training with your gundogs, have space to build a kennel well away from the public eye,  and have busy family with young children,  then kennelling might suit you well.
How about you?
Do you kennel your dogs? Do they live in the house?  What do you think the benefits are?  Share your thoughts in the comments box below
If you enjoy my articles, you might like my new book: The Happy Puppy Handbook
 – a definitive guide to early puppy care and training.