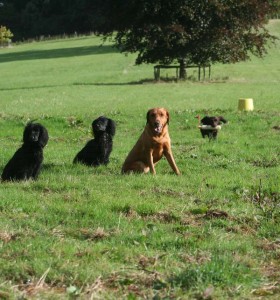 There have been several studies in recent years comparing the physiological effects of sprinting with those of endurance activities like jogging.
These studies have shown that the same fitness benefits can be gained from very short periods of sprinting as can be gained from far longer periods of jogging.
In other words,  we don't need to spend as long exercising as we thought we did.  If we are prepared to go a little faster!
Whilst these studies have all been carried out on people,  there is no reason to think that dogs with their cardiovascular similarities to us, might not benefit from sprinting too.  What is more,  once your dog is working on shoots there will be plenty of occasions when  he is required to sprint, and he needs to be in shape for it.
I use 'sprints' a lot to get my dogs in shape for the shooting season.  Mostly in the form of long lining drills out to a permanent blind that is well known to the dogs.
The permanent blind
Normally I dump a big bucketful of dummies at the foot of a tree.   Then go to a different part of the field and send the dogs back and forth to the pile.[wp_ad_camp_1]This morning I used my yellow bucket to mark the pile.
The benefits of the bucket are that you can use it in lots of different locations.
This doesn't have anything to do with game-finding skills,  it is just an exercise in running really fast and straight to a known marker. 
It builds fitness, and confidence in the 'back' command.
Being safe
Obviously there are provisos.   Just like people,  elderly, fat, and obese dogs should not be asked to suddenly start sprinting.   And the time and distance spent sprinting needs to be built up gradually to give the dog a chance to build up fitness and avoid injury.
It is also a good idea to 'warm the dog up'  with a little light exercise before despatching him off on fifty or hundred yard sprint!
Avoiding boredom
You also need to err on the side of caution with any dog that is not a very passionate retriever,  or you risk boring him and putting him off  retrieving.
Remaining steady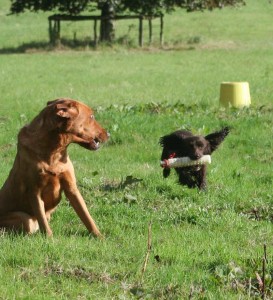 And beware of using 'marks' for sprinting practice unless you are in a big group of dogs, as this can cause steadiness issues.
But if your dogs love multiple long retrieves as mine do,  giving them plenty of opportunity to run their socks off, three or four times a week will help keep them fit and happy!
Love the look on this lab's face as the cocker flies past…
If you enjoy my articles, you might like my new book: The Happy Puppy Handbook
 – a definitive guide to early puppy care and training.