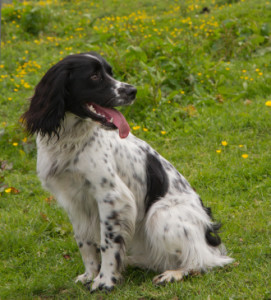 Training a long distance whistle stop is a very satisfying experience.
We began in Part One by teaching the dog to sit to a whistle cue at a very basic level.
There were no distractions,  and the dog was right next to you.
In Part Two, we introduced movement into the exercise and taught the dog to drop into a sitting position from a run
He also learned to remain sitting whilst you ran away from him.
The next step is to put some distance between you and your dog at the point where the whistle is blown.
A difficult step
The transition between stopping to whistle at your side and stopping to whistle at a distance, is big leap for any dog.[wp_ad_camp_1] There are many ways to cross this chasm,  and most obedience trainers teach it quite differently from gundog trainers.
There are differences too, within the gundog community,  differences between retriever trainers and spaniel trainers,  and differences between individuals in each group.
The steps in the process I have shown you so far are designed to prepare you for my own method,  but before we go into that,  let's look at some of the different ways in which a distance stop can be achieved.
Stop on the recall
This was a popular method of introducing the 'stop' for retriever trainers 'back in the day'.
Here is what my very first gundog training book told me to do
"In my experience, the best method of teaching a puppy to sit at a distance is to drop him, walk away about twenty yars, whistle him up, and immediately he is almost up to you again, drop him by command and/or whistle. Repeat this by walking away again and whistling once more, this time giving the command to drop a little sooner"
Thus spoke the great Peter Moxon in 1952.  Peter's book Gundogs: Training & Field Trials

is still well worth a read.
What is wrong with stop on the recall
Stopping a dog on the recall does work.   This is a method I used myself with success, with several dogs.   So why do fewer trainers use this method nowadays?
The problem with stopping a dog on the recall,  is that it messes with your recall.
Whilst it is fine to stop a dog on the recall occasionally (and indeed you should be able to do this) making a habit of it, or using it to practice with, inevitably takes some of the pace out of your dog's recall.
And that seems rather a shame.
Another problem is,  that many dogs will run on towards you for several steps unless you 'correct' or intimidate them to begin with.
You may not find this acceptable.
Free running stop
This is a method popular with spaniel trainers, and still quite widely used today.
The trainer allows the dog to run around close by and gives the sit cue.  The dog usually ignores it and carries on moving about, at which point the trainer approaches the dog and flips him into the sit position with a firm repeat of the sit command.
Some trainers will blow the whistle in the dog's ear at this point.  The exercise is repeated several times and increasingly firm corrections follow any failure on the dog's part to sit.
As you can imagine,  there are many flaws in this method.
Done neatly by an experience trainer with a dog that is used to correction (and therefore intimidated by the trainer) it works very quickly.
Done by the average pet dog owner, with a dog that is not used to being approached by an increasingly irritated owner,  it can quickly result in a breakdown in communication between the two.
Common problems are a dog that decides to keep just out of reach,  or a dog that becomes very anxious and crawls after the trainer when the trainer moves away.
A much better way of approaching this traditional method is to give it a modern twist with an event marker (such as a clicker) and positive reinforcement of the sit.
The stolen retrieve
One of my preferred methods, is to use the stolen retrieve as a transition exercise, before practising the stop in different situations.
The stolen retrieve entails despatching the dog a few yards for a retrieve that the dog thinks is there,  but that has actually been removed.
I like this method because it avoids aversives, and so keeps a good 'vibe' going between dog and handler.   It also sets the dog up to win because he has already put his brakes on before you apply the whistle.
You can follow this link The Stolen Retrieve for a detailed explanation of the method.
Practice
Once you have installed a remote sit using the stolen retrieve,  you can practice the stop whistle in increasingly distracting situations, including stopping the dog occasionally on the recall,  and on the way out to the retrieve.
Like any skill, practice makes perfect.
Remember, that to begin with you should always reward the dog immediately after stopping him,  either with a retrieve or by going out to the dog and feeding him something he values.
Fade rewards with caution, and never eliminate them altogether.  Stopping can easily become negative for the dog if not effectively rewarded.
We'll look at some exercises for practice later,  but when practicing, remember that you do need to be very careful indeed not to interfere with the dog's pace by repeatedly stopping him when his is engaged in any activity that requires speed.
The obedience trainer's stop
My stolen retrieve method requires a dog that retrieves.  If you want to teach a 'stop' to a non-retriever, you will need to take a different approach.
The best way to do this is to teach your dog to drop on a mat or board.   You can fade the mat once the dog has grasped the concept.
Emily Larlham's excellent video demonstrates this perfectly
http://youtu.be/tVGaslyGaGE
This method is also a better way of achieving a stop on the recall, than the one described above.
How about you
Do you have any favourite stop whistle practice exercises?  Share in the comments box below
You may also enjoy: Making the stop whistle a 'good thing' 
If you enjoy my articles, you might like my new book: The Happy Puppy Handbook
 – a definitive guide to early puppy care and training.