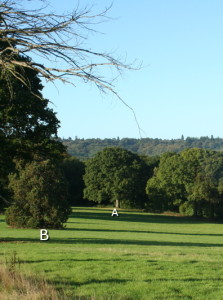 Blind retrieves are a very neat piece of teamwork
A partnership between man (or woman) and dog.
It's a partnership built on trust and confidence.
And we need to build that trust and confidence in careful stages.
Permanent blinds are a tool that we use as a part of that process.
In this three part mini series, we're going to look at why we teach permanent blinds to gundogs as part of a programme of controlled retrieving,  and then move on to 'how' and 'where'.
I'll also give you some exercises to work through
Let's define a blind retrieve
A blind retrieve is one that the dog has not seen fall.
He is relying on his handler to guide him to the area of fall, so that his nose can then take over.[wp_ad_camp_1]When we send the dog out for a true blind,  it does not yet exist in his mind.
He simply sets off in the direction of our choice and places his faith in us, confident that he will come across a retrieve at some point.
But this trust and confidence is not inborn.
It has to be created and nurtured by setting the dog up for success after success.
What is a permanent blind?
A permanent blind is a special place.
It is a place where the dog anticipates finding a retrieve with a high degree of confidence
He does this because he has found many retrieves there before.
He is so confident in fact,  that he will dash with huge enthusiasm to the permanent blind location, each and every time you send him there.
What is the purpose of the permanent blind?
The purpose of the blind is to build the dog's confidence in travelling away from you.
And to help him understand that there is often a retrieve, even if he has not heard a shot, and not seen a retrieve fall.
Your promise
Here is the important part.   A blind retrieve is a promise
It is your promise to your dog.
A promise, that if he runs in the direction you choose,  fast and straight,  he will eventually reach a retrieve.
A permanent blind confirms in the dog's mind, that you keep your promises.  It builds his confidence for the future, so that when you ask him to run out 'cold'  to a new destination,  he trusts that you won't let him down.
Now let's look at the practicalities
How to set up a permanent blind
You are going to need to chose a specific location and fix it in your dog's mind as a place where there are always dummies.
To do this, you will need to get your dog used to collecting marked retrieves from that location.
How to choose your location
The location you chose should be as distinctive, as possible.  So that it is easy for the dog to recognise.
The backdrop to the permanent blind should be sufficiently imposing that the dog naturally comes to a halt there.
A large tree on a fenceline or hedgerow at the edge of a field may suit (e.g.A above).   Or the corner of a field where two boundaries meet.
If you use a landmark out in the open,  it should be a significant one.  A very large tree in an open field might do (e.g.B above),  a small sapling might not.
Make sure that there is at least enough space for your dog to run 50 yards in a straight line across a fairly even surface to reach the permanent blind.
Ready to start?
Now you have chosen your perfect location, you are ready to start training
In Part Two we'll talk run through three exercises that will get you started teaching your very first permanent blinds.
If you enjoy my articles, you might like my new book: The Happy Puppy Handbook
 – a definitive guide to early puppy care and training.