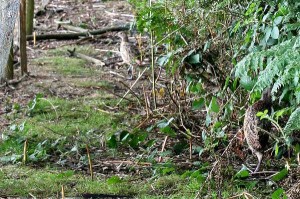 The last of the pheasants arrived on Friday.
All of our pens are now stocked once more.
The pen repairs and early summer work is done.
Rotten posts have been replaced, holes in the fences repaired, electric wires mended, vegetation cleared from the perimeters, and feed rides restored.
And so it begins
We must now settle down to the serious job of keeping these little birds safe and well.  Drinkers must be kept clean and filled, a harder task now that we have no mains water supply to our pens, and hoppers kept topped up with food.
We have one pen stocked with ex-layers and three with poults.
Each morning and evening the entire perimeter of each pen must be examined by an experienced eye.  We check for attempted 'break-ins' by four legged predators that have braved the electric wire, fallen branches that may have compromised the electric circuit or damaged the main fence, and escapees.
Flying practice
This year our poults have arrived un-clipped and are able to fly short distances.  This has its advantages and disadvantages.[wp_ad_camp_1] Poults that cannot fly are more vulnerable to predators, but on the other hand unclipped birds are more likely to escape over the wire.
Something we would rather they did not do until they have grown a little bigger.
Any that have hopped over and into the big wide world, must be 'walked back in' via one of the purpose built pop-holes that are built into the base of the pen.
Steadiness training
Many people do not realise just how big a pheasant pen is.   This is not some little 'chicken run', but a fenced area that encloses a large piece of woodland.
Walking the pens is therefore good exercise for me and the dogs.   It is also good steadiness training for a young dog to regularly have to walk at heel past scuttling pheasants on the other side of the wire.
Poults are easily spooked and if given a fright the whole lot could crash into the fence and hurt themselves, or shoot over the wire into the open wood on the other side,  so it is important that dogs remain calm and quiet at heel as we walk the pen.
I have not introduced Rachael to the pheasants yet, but will be doing so over the next few weeks.  At the moment, I am hand feeding the ex-layers who arrived earlier to the poults and are now settled in.
Hand feeding encourages the birds to gather around me when I whistle, this means that in due course, I will be able to have Rachael sit next to me whilst I do this.
An asset for any trainer
It is hard physical work, but the benefits to a gundog enthusiast of raising pheasants, or being involved in helping someone that does so are immense.
There is simply no replacement for regular daily contact with pheasants for steadying up a dog.
If you have a young dog that you are preparing for the coming shooting season, I strongly recommend that you offer your services to a local keeper in exchange for some valuable 'close encounters' for your dog.