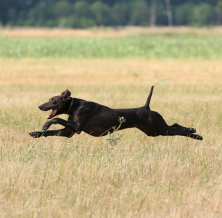 The German Shorthaired Pointer,  or GSP is one of the most popular HPR breeds in the UK.
These short coated, good natured dogs, come in a wide range of colours.
The most familiar and recognisable of which is the speckled liver and white variety.
Working dogs
GSPs are not only popular with rough shooters and as pets,  they also make excellent deer stalking companions and can be trained to follow a blood trail over long distances.
Family dogs
GSPs are sociable dogs without the temperament issues sometimes reported in their wire-haired cousins.  They can and do make a great pet for active families.[wp_ad_camp_1]Like all gundog breeds they benefit greatly from gundog training,  and from participating in mentally stimulating activities such as gundog work,  working trials, or obedience.
More information about GSPs can be obtained from the German Shorthaired Pointer Association
If you enjoy my articles, you might like my new book: The Happy Puppy Handbook
 – a definitive guide to early puppy care and training.