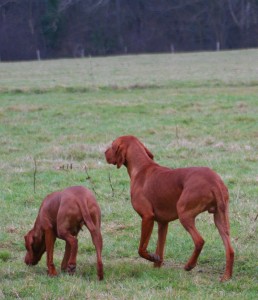 Hungarian Vizslas seem to be increasing in popularity within the working gundog community.
We now have several of these beautiful gundogs working on our small shoot in Surrey.
I also regularly see Vizslas on working on other shoots.   And it has been a real pleasure getting to know the breed.
Temperament
The Kennel Club describes the Vizsla as having an aristocratic air,  with a lively and equable temperament.  And judging by the individuals I have met,  this is an accurate description.
These dogs manage to be 'distinguised'  without appearing aloof.   And are kindly, even tempered dogs, without the 'in your face'  friendliness of the labrador.
Appearance
The Vizsla is described as a medium sized breed of dog with a russet gold coat.   A little taller than the average labrador,  these are athletic and rather 'leggy'  dogs.   I would describe them as quite large but graceful.    The colour is stunning,  and in my part of the country they seem unaffected by cold water despite the very short smooth coat.
How they fare in colder climates I can only guess.  But Hungary no doubt has its fair share of bad weather.
Heritage
According to 'The Vizsla'  by Bernard C Boggs, the earliest known writing about Vizslas is in 'the illustrated Vienna chronicle' dating from 1357.
Originally dogs exclusive to the aristocracy, Vizslas were kept pure bred  for hundreds of years by barons and lords, they were jealously guarded, and their owners continued to develop the hunting ability of the viszlas through breeding.
Letters and writings from the period exemplify the high regard viszlas were held in.
At work
Like all gundogs, Hungarian Vizslas require regular stimulation and exercise.     As HPRs they are expected to hunt up game over a wider beat than a spaniel,  hold a nice natural point,  flush on command and retrieve what is shot.   Once trained, they do an excellent job in all respects.
If I were looking for an HPR tomorrow,  this breed would be top of my list.
The Hungarian vizsla is becoming a more popular dog choice, with over a thousand individuals being registered with the Kennel Club each year.  Let's hope that the working qualities of this once unusual,  handsome, honest and hard working gundog are preserved along with his kindly temperament.
If you enjoy my articles, you might like my new book: The Happy Puppy Handbook
 – a definitive guide to early puppy care and training.