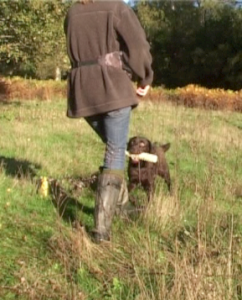 We talked in a recent article, about delivery problems in general.
And about the different methods that can help you resolve them.
Like any training,  teaching a delivery isn't something that can be taught and then forgotten.
At least not initially.
Practice
With a young dog,  delivery standards are still very new,  and he needs a lot of practice before these become second nature to him.
The problem is,  that we all want to 'push on' and make progress in our training.
We don't want to have to 'go back to the drawing board' so to speak,  or to put our outdoor retrieve training on hold, every time delivery standards slip a little.
And with most youngsters, they will slip from time to time.
This is especially true of keen but playful dogs that have a tendency to 'mess about' with the dummy, or to play 'keep away' or be 'evasive' on the return.
If you are not careful, you can end up rehearsing poor delivery after poor delivery.
Fortunately,  there is a nice simple exercise, that you can do in the field that will help you.
Pathways in the brain
The road to 'fluent' behaviours is paved with practice,  we know now that repeatedly rehearsing specific body movements allows pathways to build up in the brain.[wp_ad_camp_1]These pathways make it easier for those body movements to be repeated in the future, and more likely that they will.
And the more times that your dog practises the right behaviour sequence,  even if that sequence is rather contrived,  the more likely he is to get the sequence right when it comes to the real thing.
A memory bank
It is as if these rehearsals build up a memory bank of desirable behaviours in your dog's mind.  Think of every correct delivery as a deposit, and every poor delivery as a withdrawal.  To keep your 'account' in credit, you need to make sure that correct deliveries outweigh the poor ones.
In this article, I want to illustrate a very simple way of rehearsing an effective delivery under controlled conditions.   You can do this exercise at the start of your retrieving session,  in between retrieves, and at the end of a session.
The objective is to vastly outnumber any poor deliveries, with great ones.   The exercise is called, the walking hold
Walking hold: the exercise
WARNING:  this exercise is not suitable for all gundogs (see below)
Have the lead in your left hand and the dog walking at heel.  Have a dummy that your dog knows and loves in your right hand, and tucked behind your back.
Present the dummy to the dog as you walk along.  Have him walk along with it in his mouth and (you can pause at this point in order to manoeuvre) swing round so you are now facing the dog and walking backwards.  The dog is now walking towards you.  Get the dog coming in to you nicely and take the retrieve as soon as you stop.
You can vary this exercise by adding a 'sit' before the delivery.
The point is, your dog's options are severely restricted.  He simply has no alternative but to bring the dummy in nicely and deliver.   Which enables you to practice several good deliveries in a row.
Have a look at the video below
Who is this exercise suitable for?
This is a great exercise for very keen retrievers that tend to be excitable or playful.  It is ideal for dogs that have been taught how to hold and release a dummy but that have an inconsistent delivery out in the training field.
It makes sure that the young dog has a far greater store of good deliveries in his memory, than of bad ones.
And is a good way to help maintain standards until the dog is 'fluent'.
When should you do it?
Whenever your dog delivers poorly, make sure he does two or three walking holds before the next retrieve, and at the beginning of the next session.
Try starting every session with this exercise for a few days to see a marked improvement in delivery.
Do's and Don'ts
Don't use this exercise for reluctant or 'lack-lustre' retrievers. It is too boring.   If your dog does not grab the dummy eagerly when you present it,  this exercise is not for you.
Do make sure your dog has a good standard of lead work first, you cannot do this with a dog that does not walk to heel.
Do teach your dog to hold and release a dummy before starting.
It is probably a good idea to read this article:  Grade Two gun dog: the delivery  before you begin.  Have fun!
If you enjoy my articles, you might like my new book: The Happy Puppy Handbook
 – a definitive guide to early puppy care and training.