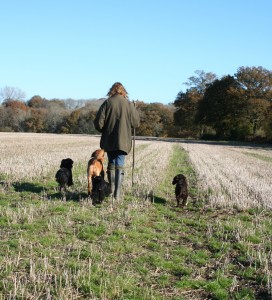 Dog handlers have come a long way in the past few years.
Modern training methods are fantastic.
They enable us to manipulate our gundog's behaviour in many ways without force.
But has this relatively newfound ability contributed to some confusion over the role of the dog in our lives.
As gundog owners we definitely ask our dogs to carry out tasks. To retrieve, hunt and behave nicely whilst they do so.
So, should we be 'controlling' our dogs, or are we now partners?
Opposing Views
Ethologist Roger Abrantes  commented in an article that he doesn't like the word 'command'  in dog training. He felt the word 'command' implies subjugation, which he objects to.[wp_ad_camp_1]Do we not subjugate our dogs?  With our ability to train without force,  are a dog and his trainer now a true partnership?  Or is this concept an illusion.
Unlike Dr Abrantes, a lot of us are actually fairly happy with the word 'command' in dog handling.
A command can be considered to be an instruction that is not optional. Is this not what is happening when we communicate with our dogs?
We are not giving them a choice to sit, heel, stay or retrieve if they so choose. We are telling them what is going to happen, expecting the action to follow.
Whilst I would be the first to refer to a good working relationship between gundog and handler as a partnership,  if we are honest  this is not really a very accurate description. A true partnership is a working relationship between equals.
Subjugation on the other hand means to conquer, master, or bring under control.
Are Dogs Subjugated?
Most dog owners want to retain the option to choose where their dog sleeps,  what he eats, how he greets their friends, when he takes a bath,  how much noise he makes, what time he goes to bed,  when he takes exercise.
We are even in charge of if and when he is allowed to mate, and who gets his progeny.
Outside of his home a pet dog also needs to have, if nothing else, a good recall. This keeps him safe from harm, if his owner lets him off the lead near an area where there may be cars. It is for his protection that he must respond to the recall, every time.
As gundog owners this area of necessary commands increases, to include often complex fieldwork. A working dog responding in the correct way, could be the difference between finding a wounded animal or leaving it in the woods. It's vital that he is clear in your instructions.
This isn't really a partnership, but subjugation for a valid reason. So, why are people upset by this?
Perhaps because the difference between the subjugated modern dog and the subjugated dog of fifty years ago, lies in the methods used to get there.
Understanding your Audience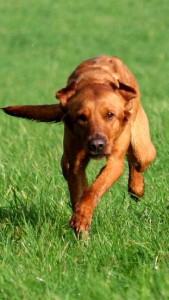 Subjugation is of course a very emotionally charged word and not one we normally apply to animals. This is in part because our dogs do not have the same understanding of the world as we do.
Animals do not have an attachment to a concept of 'freedom'. Your dog is perfectly happy to be subjugated. He could not care less about freedom or choice.
Provided you feed him and are kind to him, he is happy to do what you have trained him to do, and to do it so well that the illusion of teamwork is complete.
Gundogs are a great example of this, as in carrying out their training correctly they are allowed to do something that they find incredibly rewarding.
A pet dog will never be able to race around the undergrowth where rabbits abound, because they have not been taught that as soon as they see them they must sit down and stop.
Gundogs can enjoy a range of experiences, only because of the level of control we have.
Teamwork or Subtle Control
I know that when many of us work our gundogs in the field,  we are seen and described as a team.
I love the fact that my dogs enjoy their work and find hunting and retrieving enormously rewarding.  This makes them very easy to train.
The fact remains that much of what they do is not optional.   When I say so, hunting stops and dogs 'come to heel'. They do not have a choice.
All the Right Reasons
Whilst I am glad that old fashioned notions of dominance and aggressive dog handling, are being replaced by positive and non-confrontational methods,  I don't think we should forget who is in charge,  or be ashamed of words like 'command'.
Nor do I think we should forget that dogs are dogs, they are not people. We give them commands not only for our benefit, but for theirs. Our gundogs do a great job. Not only are many of them valued family pets, but they carry out a range of complex and essential tasks.
They deserve our respect and to be treated with kindness and compassion,  but they will always require the protection and indeed ultimately the control of a human being.
Not only do I strongly believe this allows them to have a more enjoyable life, but it helps to keep them safe.
If you enjoy my articles, you might like my new book: The Happy Puppy Handbook
 – a definitive guide to early puppy care and training.