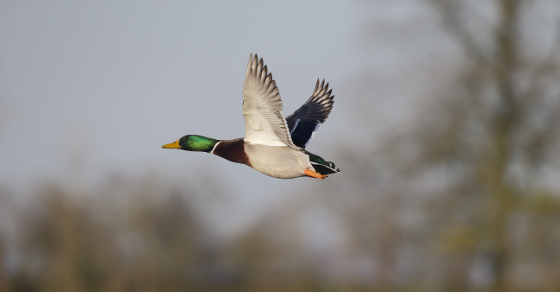 Wildfowling is a sport for the dedicated specialist.
There are a number of quarry species of wild goose and duck in the UK and these all make delicious eating.
Much of our wildfowling takes place along our extensive coastal area known as the 'foreshore'.
A challenging activity
Because the foreshore is tidal,  wildfowling can be extremely hazardous due to the risk of being cut off by the incoming tides.  It requires extensive local knowledge to participate in this sport with a relative degree of safety.
Most wildfowlers gain this local knowledge through membership of a wildfowling club in their area.
Wildfowling  also requires a  good level of fitness and strength as climbing across mudflats and estuaries is exhausting.
Large strong gundogs, such as Labradors or Chesapeake Bay retrievers,  are required to retrieve the birds shot  and wildfowlers must be competent at the identification of quarry and protected species in poor light,  in order to selectively shoot the right birds.
Unsocial hours
[wp_ad_camp_1]Many species of geese fly inland at dawn to spend the day feeding on fields,  and then return to the foreshore in the evening so that they can spend the night on the relative safety of the mudflats.
Duck tend to do the reverse and spend the day night feeding returning to the mudflats at dawn.
Either way,  the wildfowler's best chance of shooting his dinner is usually found in the very early hours of the morning.
Joining a club
If you are interested in taking up wildfowling you will need to be a competent shot, and to join a Club in order to gain the local knowledge that you will need.
Once your are going out on your own,  you will need a fully trained retriever, or large strong spaniel,  to collect your shot birds.
You can find more information and links on this page:  Getting into Fieldwork.   And information on training your dog in this section.
You can find well bred gundogs advertised for sale on the Gundog Club website  and more information about Wildfowling Clubs around the UK on the British Association for Shooting and Conservation website.
If you enjoy my articles, you might like my new book: The Happy Puppy Handbook
 – a definitive guide to early puppy care and training.