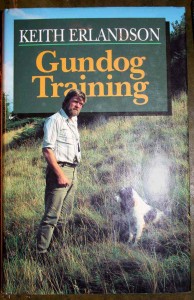 Many gundog books have a very traditional flavour.   But even if you prefer a more modern approach to your training, there is still a wealth of wisdom to be gleaned from within the pages of  some of our most classic gundog books.
Here are a few that have been on my shelves from more years than I care to remember.   Some of these books gave me knowledge, support and encouragement when I began my own gundog training journey over thirty years ago.
1  Gundogs: Training and Field Trials by Peter Moxon
This book was given to me as a present by my husband in 1980.  It was already nearly thirty years old then and even today,  thirty years later, there is still much of interest within its pages.
2  Gundog Training by Keith Erlandson
Keith Erlandson's classic book was first published in 1976.    Erlandson was a spaniel trainer of great repute and his book is warm, readable and informative.   A must read for any spaniel enthusiast.
3  Working Gundogs by Martin Deeley
Fast forward a few more years to 1989  for Martin Deeley's  thorough guide,  and introduction to training and handling working gundogs.   Some of you will be familiar with Martin Deeley's easy commentating style at the annual CLA Gamefair over the years,  and his writing flows in the same relaxed manner.    There is a sequel to this book which is also worth a place on any gundog owner's shelf and it is listed below
4  Advanced Gundog Training by Martin Deeley
5  Working Springers and Cockers  by Mike Smith
Here is a book that cannot fail to fascinate anyone that is passionate about spaniels.   Printed in 1998, not only is it full of useful training advice from an experienced spaniel handler,  it contains a unique analysis of successful Field Trial spaniels in the UK.   Not to be missed
6  Gundogs, their learning chain by Joe Irving
Worth reading and definitely considered a classic by many is Joe Irving's book, published in 1983.
7  The Ten Minute Retriever by John and Amy Dahl
I am going to nip across the water for our next classic published in 2001.   I think it is fascinating for gundog owners in the UK to get an insight into the often very different style of gundog training that takes place in  the USA.   Despite its American flavour,  there is much in these pages to entertain the keen retriever trainer.
8  The Gundog Club training guides by Pippa Mattinson
I make no apologies for sneaking my own books into this list, the proceeds from my Gundog Club Books  go to charity,  and with around nine thousand copies sold so far,  they have been very well received.   I will leave it to you to decide if you like them.
9  Training the Sporting Dog by Donald Smith and Ervin Jones
Another American title that deserves a place is the official training guide of the American Hunting Dog Club.    The structured training exercises in this book were an influence on the layout and style of the Gundog Club's training guides and the book itself makes interesting reading
10  The Versatile Gundog  by Guy Wallace
Last but not  least, and especially for much neglected HPR owners,  is Guy Wallace' classic book on HPR training.   Despite its title and focus, this is a great read for all gundog owners.
Bear in mind that many of these books are very traditional in style and content,  and some recommend methods that modern gundog trainers no longer employ.    American trainers use Force Fetching techniques are generally regarded with distaste in the UK.     It is up to you to take from the books what you need and to be discriminating about the contents!
I hope you enjoy them.
How about you?   Do you have a favourite that you would like to mention?  Let us know in the comments box below.