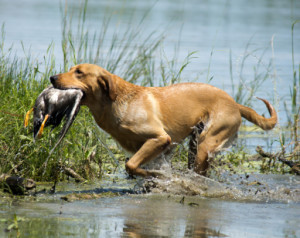 Many gundogs will pick up an object and carry it.
Without any training whatsoever.
Dogs have, after all, been fetching sticks since time immemorial
Not many gundogs however, will retrieve gently, on a reliable basis, and to the standards required in the shooting field, with no training at all.
Will he or won't he?
Some dogs will get bored of retrieving after a few throws of a dummy.  Others will pick up game but not dummies. Some will pick up dummies but not game.
Others will pick up anything, but won't hand it over![wp_ad_camp_1]The untrained dog retrieves impulsively on  hearing a shot or seeing a fall,  a hazardous and very disruptive way to behave around guns.
Many if not most,  untrained dogs, will drop the retrieve if faced with serious obstacles or exciting distractions.
There are endless permutation of retrieving issues and difficulties, for those hoping for an entirely 'natural' retriever.
Which is why effective retrievers are dogs that have been through a training programme of controlled retrieving.
What is controlled retrieving
Controlled retrieving  is about taking the question marks out of the retrieving process.
It is about creating a behaviour that can be executed time and time again,  to specific standards, and under the most challenging conditions that you are likely to find in the shooting field.
We know that there will be times on a shoot when we will want a dog to pick up one bird, and not another.
There may be times when we need to 'abort' a retrieve part way through.   Or redirect a dog from a dead bird to a runner.
Or to help a dog back into the area of fall when he is hunting in the wrong place.
We need our dogs to place injured birds directly into our hands so that they can be despatched immediately.  Not spat out on the ground where they may flap away and suffer.
For these reasons, we need to be able to control the retrieving process.  To choose when and where the dog will retrieve.  To send the dog in a particular direction,  and to stop him at a distance and redirect him.
And above all,  we need to build up the dog's experience and skill in careful steps so that he remains confident and does  not give up when conditions are challenging.
We do this through careful training
The components of the controlled retrieve
The key components of controlled retrieving in any dog are
Desire
Confidence
Skill
Directional control
Steadiness
Experience
Desire
Drive or desire is what powers the dog's willingness to retrieve.  It is what propels the dog forwards with speed and enthusiasm.  And helps to keep him going, when the going gets tough.
But desire is not an immutable force.  It is vulnerable and easily damaged.   And must be nurtured and protected.
You might like to read Building and maintaining retrieving desire for more information on this topic
Confidence
There are challenges out there, waiting for your dog.   Sometimes, desire will not be enough to get him through them.  In training we can control those challenges to some extent,  introducing them bit by bit.
But no matter how hard we try,  there will be a constant 'drip' of little challenges that your dog will face in training, and there will be more and bigger challenges out there in the field.
He will need confidence in himself in order to face them.
Too little confidence can drain a dog of desire,  whereas overconfidence can reduce his ability to work with his handler as a team.    We want the dog to believe in himself, but not so much that he thinks he can dispense with your input.   It is a question of balance
Confidence in his handler is also essential, especially in a retriever,  and especially when retrieving blind.  All these factors need to be considered when designing a training programme.
Skill
There are a number of separate skills that go towards creating a successful retrieve.  And these skills need to be established early on in the training process.   Most are a combination of training and natural ability.
They include marking, picking up, holding,  and releasing the retrieve item.  You can read all about them in this article:  The retrieving process explained
Some dogs require very little training in this respect, others need to be taught one or more of these skills in a structured way.  You can find instructions for this training in the retrieving exercises section.
Directional control
This is where teamwork really counts.  There will be times when your dog needs your help and he needs to know this, without being overly dependent on you.
He needs to be ready and willing to accept your directions when you give them,  without giving up and seeking your help at the first obstacle.
This kind of teamwork can only be achieved through structured and thoughtful training.
You can find follow this link to find out more about Directional Control
Steadiness
Steadiness is all about impulse control.   The steady dog has learned to wait for instructions before he makes his next move.
Steadiness gives us choice.  It allows us to determine exactly when our dog will retrieve,  just as directional control allows us to determine exactly what and where he will be allowed to retrieve.
Instilling steadiness is a question of proofing known commands against distractions, and ensuring that the dog never acts impulsively.  Find out more here: Introducing Steadiness to Fall
Your training programme
An effective programme of training embraces drive, control, steadiness,  confidence, and skill,  building them up layer by layer.
The dog is then introduced to genuine field conditions in a considered and structured way to ensure that all these components are kept nicely in balance.
Working through the Gundog Grades is a great way to establish and maintain these important attributes of retrieving, and to keep them all nicely in balance.
You can start here:  Grade One Training
If you enjoy my articles, you might like my new book: The Happy Puppy Handbook
 – a definitive guide to early puppy care and training.