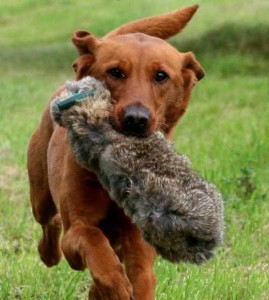 You have probably come across a gundog that has little interest in retrieving.
This sad state of affairs is often 'man-made'.
There is much you can do to avoid your gundog losing his passion for retrieving.  Let's take a look.
The instinct is there
Gundogs that have been bred to retrieve have an instinctive urge or 'drive' to do so.   In particular,  they have an urge to carry out the first part active of the retrieve:  the chase.
This drive to chase after and 'capture'  a thrown object is very strong in most working bred retrievers and spaniels.   Almost as common is a strong urge to 'pick up and carry'  that object in their mouths.
The urge to return to their handler with the object is stronger in some dogs than others,  and often needs developing and encouraging.
Get that chase established
The most important urge is the 'chasing' behaviour,  because without that,  we have no chance of a retrieve.[wp_ad_camp_1]The desire to chase must be there inside your dog.
This desire probably cannot be taught.
A dog that retrieves without 'desire'  is just going through the motions and is liable to be a disappointment.  
He is also likely to give up if retrieves are difficult or challenging.
Your dog will need that 'desire' more than ever when he has to struggle up a steep bank, jump over a gate or stone wall, or swim across a fast flowing river,  with a heavy bird in his mouth.
Your first priority is therefore to nurture and build that 'desire to chase'  the ball, or dummy that you throw. The pickup and return can be developed at a later date.
Steadiness
One way to damage the all important retrieving desire in your puppy is to make him sit and wait before he is allowed to chase.
When puppies are small their attention span is short.  If you make your puppy wait,  all that passion for fetching your ball may be lost.   He needs to chase after it right now,  as soon as you throw it.
So don't be tempted to introduce steadiness to a young puppy that is just learning to enjoy retrieving.  Later on,  when you have nurtured his 'desire' from a tiny flickering flame into a great big bonfire,  then is the time to introduce steadiness.
Practicing too often
If your puppy loves to retrieve it is tempting to throw retrieves for him every day.  Even several times a day.   But familiarity breeds contempt.  If retrieving is always available,  retrieving soon loses its lustre.
Put the dummy away
Wait a few days and try again.     If you have steadied your dog and he loses interest in retrieving you may even need to let him start 'running in' again to re-awaken his desire.
Deprivation increases desire
We want the gundog to become a retrieving addict.  Get him hooked then ration the retrieves so that he is always desperate for his next 'fix'.
Once you are confident you have a gundog that retrieves with a passion second to none,  you can move on and steady him up.   Always bearing in mind that 'deprivation increases desire'.
Moving on
As retrieving practice gets more complicated and retrieves become longer,  the dog is less likely to get bored,  and you will be able to build up the number of retrieves that you can give him without diminishing his passion.
Once he begins retrieving real game, his passion will intensify further.   Just remember to ration retrieves in the early days to avoid sickening your puppy of the whole process.
Your dog?
Have you managed to increase your dog's retrieving desire?   Share your tips in the comments below!
If you enjoy my articles, you might like my new book: The Happy Puppy Handbook
 – a definitive guide to early puppy care and training.