[wp_ad_camp_2]It does not matter how good your dog is at finding game if he will not bring it back.
And having brought it back he needs to complete the process and hand it over!
Achieving this happy state of affairs is not always straightforward.
It goes without saying the an excellent recall is a necessary pre-requisite for a retriever.
But sometimes a dog that recalls flawlessly in all other circumstances,  will start to play 'keep away'  when it has a retrieve in its mouth.
With a  young puppy this is often just an attempt to involve you in a game of chase,  so do not be caught out by that little ruse.  Always move away from rather than towards,  your young retriever if he shows any sign of hesitation in approaching you.
Other dogs however are possesive over the retrieve and want to keep it for themselves.   This can be a little trickier to deal with.   Sometimes this possessiveness only appears when the transition is made from dummies to game,  or when more interesting (furry for example) dummies are introduced.
Retrieving corridors
One way of improving your chances of a direct return are to limit the dog's options by using a retrieving corridor or natural opening in a barrier to 'channel' the dog in to you.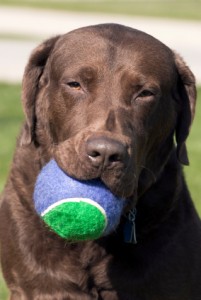 Many puppies benefit from this kind of 'channelling' to get a good retrieve going. 
So much so, that some serious trainers do all their early retrieve training in a dedicated long, narrow, fenced area.
This stage doesn't last for ever, and the more often you get a good return, even a manipulated one in the early days, the sooner the dog will have a good retrieving habit.
Gaps in a hedge, pathways between buildings, field gateways, even the back door into your garden, etc can all be used to good effect.
It is not a bad idea to return to the retrieving corridor concept with first cold game retrieves,  especially if your dog shows any signs at all of reluctance to part with his prize.
The long walk about!
If the dog shows reluctance to return out in the open,  you need to get walking!   Once the dog has 'picked up' don't just stand there waiting, set off briskly in the opposite direction.
Make him responsible for coming to you, never the other way around.
Walking, even running, away from the dog helps to trigger his response to chase or follow you.   Occasionally, this can be quite a protracted process with the dog staying just out of reach.  In this case you must feign complete indifference to the dog and keep walking away until he comes right up to you. If he overshoots you, dodging off yet again, instantly turn and march off in the opposite direction.
Play it really cool and give the dog the impression you could not care less about the retrieve.   Do not put your hands near the dog,  do not stoop to reach the dummy, or give any impression that you have any interest  in it whatsoever for several minutes.  Just keep walking away from the dog until he falls into step behind you and you begin to sense that he is just a little tired of holding this thing in his mouth.
Then very calmly turn and tell the dog to sit.  Take the retrieve from him gently and give him some praise then immediately throw him another retrieve.
This can be very difficult to bring yourself to do when you have just spent forever getting the last one back.  But if you whisk it away now,  your risk making the dog feel 'punished'  for handing it over.  He needs a high value reward for giving you back the dummy and in this case we know the retrieve has a high value for him.
What if he won't let go?
If the dog will not give up his precious parcel,  walk him on at heel with it in his mouth for a while and  then try again.   Eventually he will get bored of carrying it around.  Now is your chance to calmly make your move and take the delivery as if nothing annoying had ever happened.
If you find yourself in this situation on more than a couple of occasions,  or if your 'walk abouts'  drag on for half an hour and you are not seeing any improvement after a few days,  then you might want to consider teaching your dog a 'trained retrieve'.
The trained retrieve will solve your problems but it takes a couple of weeks or more to complete and during that time you won't be able to retrieve with the dog at all.   Its a job for the summer if the above techniques have not helped you.
How about you?  Have you overcome a 'keep away'  problem?  Let us know what worked for you!
If you enjoy my articles, you might like my new book: The Happy Puppy Handbook
 – a definitive guide to early puppy care and training.