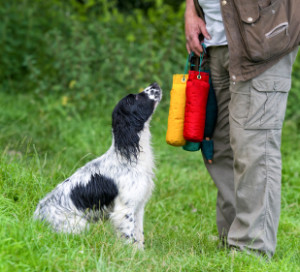 I notice some confusion from time to time, in conversations about the Gundog Club Field Tests.
One  trainer recently expressed concern that the dog 'in front of him', had a Gundog Club award.
Despite the fact, that the dog in question, was obviously not yet fully trained.
He clearly felt that this indicated that GC awards did not have merit.
How could a half trained dog have an award otherwise?
Let's have a look at why a dog that is not yet competent in the field, and not yet at a high standard of training and control, might have a Gundog Club award or two!
It is all about the stage in training the dog has reached.
A test of training progress
We have had good tests for working ability in gundogs for many decades.  Traditional awards within the gundog community,  working tests for example, or field trials,  are all test of a dog's working ability.[wp_ad_camp_1]The Gundog Club awards , which were launched less than ten years ago, are quite different.  They are a test of the dog's progress in training.   Dogs are tested right from the very beginning of this training process.
So the first tests are very simple, as they are in all graded training schemes.
Your six year old daughter might have Grade One Piano, but you wouldn't expect her to give a concert,  or cope with playing in an orchestra.
In just the same way,  a dog can have a Grade One award without any working experience whatsoever.  The Grade One test, is not about demonstrating prowess in the field.
It is simply to establish that the very beginnings of basic retrieving and obedience are underway.
The requirements may seem laughably simple to an experienced trainer,  but to someone with their very first dog,  this award is a real achievement.
A complementary system
This distinction between testing a trained dog in action,  and testing a dog still working through the training progress, is an important one.
The GC awards are not designed to rival or compete with our Field Trial and Working Test system, on the contrary,  they complement that system by supporting and motivating students through the training process itself.
All of the Gundog Club's instructors are happy to help and encourage students that want to compete in KC competitions when they are ready to do so.
A graded journey
Remember that a student that has completed only the first two GC grades may not have been in a group training environment before,  and may still be in need of a lot of encouragement and support.
A student that has completed the Grade Five award, on the other hand, will have a dog that is nearing completion of his training and is gaining in experience.  He should be ready to enter working tests and take his dog shooting.
Only holders of the Grade Six award will have already demonstrated their competence under shoot conditions in the Gundog Club's Field Tests.
Moving through the grades is a process.  And each student/dog pair, can go at their own speed.  The Gundog Club encourages its students to seek help from professional trainers during this journey.
Offering support
So if you are a trainer, and one of your clients proudly tells you that they have the GC Grade Two award,  don't rain on their parade!
Don't be surprised that the dog hasn't been taken shooting yet.  Don't expect blind retrieves and 200 yard marks!  Don't even be surprised is the dog is not obedient in  a big group of other dogs.  He is still learning.
Tell your client 'well done', show him what is needed next, and encourage him to move on to Grade Three.   You will benefit, and so will your student.
Win Win
Testing and awarding in stages during training keeps students motivated and reduces the 'drop out rate' during the learning process.  This is true of any sport or skill.
There is no rhyme or reason in 'knocking' a system which benefits everyone involved.
More students 'staying the course'  means more supporters for our sport.  It also means more clients for our professional trainers, and more support for the Gundog Trust, the UK charity which owns the GC and is working to promote positive methods and improved training standards for gundogs throughout the UK.
There really is no 'downside' to these awards.  It's a win-win situation, all round.
Too easy?
If you think the awards are too easy,  that's because in the early grades, they are intended to be!
Have a look at Grade Five to see where they lead.
Check it out
If you want to know what any of the Gundog Club grades involve, check out their website.  If you fancy having a go with a pet or working gundog, you will be made welcome and encouraged by any Gundog Club Instructor.
All gundogs are welcome, no pedigree or previous gundog experience is required.
This is the kind of feedback that the Gundog Club gets from its students
"As a result of my trainer's help I have gone from a dog who was fit for very little , to a dog who will retrieve to hand (both dummies and cold game) is steady to shot and will move at the speed of lightening when cast off, whether it be marked or blinds….  …a most gratifying course with some of the most welcoming and friendly people I have come across"
Benjamin Pearl, Devon
"Really enjoyed it, it was extremely useful. I would recommend it to anybody who has a gundog, even if they are not looking to work with it in the dog in the field.  It helps build the relationship with the dog and a bond."
Sarah Scott, Cheshire
"I am very grateful to Gun Dog Club for introducing me to what seems like a different world"
Mike Hazell-Smith, East Sussex 
I just wanted to share with you my delight and also say how helpful it has been to me as an absolute novice – never having trained a gundog, let alone an HPR, before – to have your organisation structuring the training and levels in the way you do.
Susanne Pope, East Sussex
How about you?
Some professional trainers may not be aware that many thousands of students have now taken Gundog Club Field Tests, and after a big dip during the recession,  the numbers are now growing again.
There are vacancies in some areas for experienced trainers to join the Gundog Club's register of Accredited Instructors.
If you are an experienced trainer who enjoys teaching students in achievable steps using postitive methods  contact The Gundog Club for more information.
If you are a gundog owner that would like to find out more about G.C training and test, you will be made welcome and encouraged to find and meet the goals for you and your dog.
If you are lucky enough to live in Staffordshire,  you can go along to a Field Test Day on 30th June, and find out what it's all about.
If you enjoy my articles, you might like my new book: The Happy Puppy Handbook
 – a definitive guide to early puppy care and training.