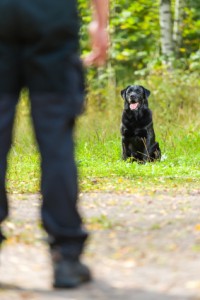 The objective of this mini-series is to teach your dog a one minute sit.
This is the fourth of our Grade One milestones
And is a progression of the third milestone: heel and sit.
We want the dog to learn to remain seated confidently whilst you leave him. And to remain sitting still for one full minute, with you a short distance away
All these exercises are done in a quiet training area free from any distractions.  At home in your garden is fine.
Sit or stay?
Like 'heel',  'sit' is a long duration behaviour.
When you tell your dog to sit,  you don't want him to bounce his bottom on the ground and get straight up again.  The sit always has some duration.[wp_ad_camp_1]But rather than keep refering to 'the long duration sit'  we usually call it a 'stay'.
Some people use a command 'stay' but this really isn't necessary.
Sit,  means 'sit until I tell you to do something else',  there is no need to complicate things by adding extra cues.
What your dog will learn
There are lots of ways to practice the long sit.  In this series your dog will learn to remain seated whilst you walk all the way around him in a circle at a distance of 10 yards.
He will also learn to sit still whilst you walk ten yards directly away from him,  wait one minute,  and then return.
We'll divide it into a series of steps
Eight steps to a 1 minute sit
Sit means sit
Adding duration to our sit
The first step backwards
Turning your back on the dog
Removing the lead
Adding distance
Adding movement
The one minute stay 
Rewards
What about rewards?  How should you reward the dog for getting it right?  This will depend on your dog.
Some dogs are thrilled to be praised and/or given a gentle stroke.  Others would rather have a piece of cheese.  Some will leap about and get excited if you praise too enthusiastically.
You need to experiment a little and find out what works for you and your dog.  For more information on using rewards in training check out:  The effective use of rewards in dog training
Whatever rewards you choose,  be generous at this early stage in training.  Your dog needs to know he is getting it right.
Step 1: Sit means sit
We'll assume that up until now, you have asked your dog to 'sit' very briefly.   You may even have asked him to sit, and then let him wander off when he got bored.
From now on,  we'll have a new standard.   Sit means 'sit right there until I tell you to move'.
If your dog gets up before he is told to, you can take two actions which will make this less likely to happen again in the future
You can reseat the dog
You can make the exercise easier
It is better if you do not repeat the sit command.  So if the dog gets up again,  you can gently manipulate him back into a sit, or lure him back with a treat.
There are two ways of releasing a dog from the sit.  You can use a 'release command' or you can give another and different command.  In this exercise, we are combining sit with some heelwork.  So your dog must remain sitting until you 'heel' him away.
 Step 2: adding duration
Leaving the dog on a 'sit/stay' brings two new aspects, or factors of difficulty, to the sit.   These factors are 'time' and 'distance'.
As with any new factor of difficulty these are best introduced separately and gradually.   When you walk 20 yards from a seated dog not only is the distance you travel a factor but the time it takes you is a factor too.
So what we will do, is introduce the time factor with the dog at your side.  Like so:
With the dog on a lead at heel walk a few paces and ask him to 'sit' as usual.
Now pause, for three seconds.  Reward the dog
Heel the dog on a few steps, and repeat, four or five times.
Now try a five second sit, praise, pause…and heel the dog on.
Repeat, but don't go to more than ten seconds in the first session.    Mix in some short (two seconds or so) sits with the longer ones.  Keep the session short (5 minutes or so) fit in lots of repetitions.
Finish with an easy one.
This is deliberately very easy,  to give you a starting point where the dog is unlikely to fail. Most dogs will manage a three second sit like this and progress to a five to ten second sit within a couple of sessions.  Some dogs may need a little longer.
Dealing with mistakes
If the dog gets up before your 'heel' command, do not repeat the sit command. Reseat him and finish the lesson with a couple of very brief sits so that you end the session with success.  Make a mental note to go more slowly next time.
Some dogs need a great many more repetitions than others.    If you are getting more than one or two mistakes in any one session, this suggests that you are adding too much duration,  too quickly.
Build up gradually
Over the course of a few sessions gradually work your way up to a 20 second sit at your side.  Remember to vary the sits within the session.
It is tempting and a common mistake to keep making the lesson progressively harder until the dog makes a mistake.  All this teaches him is that he is bound to mess up at some point.
Sandwich the hardest longest sit away in the middle of the session. (Checkout: using sandwiches in dog training)  Then if he makes a mistake, he won't remember it.
Build up his confidence.
And move on to Part Two when your dog can remain seated at heel, reliably for 20 seconds without any input from you, apart from you single sit command.
 More Information
If you enjoy my articles, you might like my new book: The Happy Puppy Handbook
 – a definitive guide to early puppy care and training.