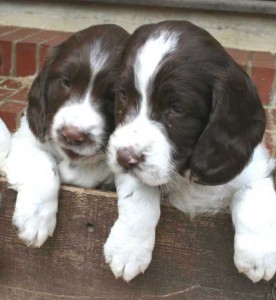 The docking of tails act was passed with an exemption for working dogs in England.
It was a moment of great importance for the health of English working gundogs.
Tail docking prevents injury to dogs that spend hours at a time forcing their way through punishing cover.
Most pet dogs do not get involved in this kind of activity in such an intensive way and are fine with their tails left on.   But for working dogs,  the removal of the end of the tail at a few day's old can prevent much suffering and surgery (amputation) in later life.
Planning ahead
I have now come across several cases of spaniel owners that have been very disappointed to find that they cannot have their working strain pups docked under the new rules.
I think it is important to make it clear that not everyone will be able to have their puppies docked.  Even puppies from the best working lines may go undocked if you don't plan ahead.
This is because of the way in which evidence is collected to prevent abuse of the exemption
Preventing abuse of the exemption
Obviously the government needed to take steps to prevent abuse of the exemption which benefits English gundogs (and which Scottish gundogs are sadly denied).
Indeed, it is important that abuse is prevented in order to ensure that the exemption itself is not challenged and overthrown by well-meaning do-gooders.
To prevent abuse of the exemption,  the government have  set out requirements for the provision of evidence to try to ensure that the dogs to be docked will be used for work.
Unfortunately there is a problem here.
The puppies must be docked at only a few days old.  This is essential in order to minimise any pain or discomfort to the pups.  Yet very few if any puppies are sold before they are five days old!
Who will own the dog in the future
Many breeders will have a waiting list,  but until the puppies change hands at around eight weeks old,  they are the property of the breeder.
People change their minds.  Just because someone says they want a pup before the bitch has whelped, does not mean that they will go ahead and buy one when the time comes.
It simply is not possible to determine with any certainty, who will buy the puppy in the future.   Let alone prove that the puppy will be worked.
The requirement for evidence therefore has to concern itself with the mother of the puppies and with the owner of the bitch and of the pups at the time of their birth.
You need to work your bitch before you breed
As a result, and this is very important, if you do not work your bitch, or are not actively involved with shooting and with working gundogs,  you are unlikely to fulfill the requirements for having your puppies' tails legally docked.
Let's have a look at the evidence required
Options for providing evidence
In order to get your puppies docked you must provide one of the following
either
(vi)evidence that the owner of the dog, or an agent or employee of the owner most likely to be using the dog, will be using the dog for work in connection with lawful pest control;
or
(vii)a current shotgun or firearm certificate issued to the owner of the dog, or to the agent or employee of the owner most likely to be using the dog for work in connection with the lawful shooting of animals;
or
(viii)a letter from a gamekeeper, a land-occupier (or his agent), a person with shooting rights, a shoot organiser, a club official, a person representing the National Working Terrier Federation, or a person engaged in lawful pest control, stating that the breeder of the dog whose tail is to be docked is known to him and that dogs bred by that breeder have been used (as the case may be) on his land, or in his shoot, or for pest control.
 Taken from legislation.gov.uk
It is all about you
Obviously the owner of the dog at three days old is normally the owner of the dam. That would be you.
It may seem annoying if you intend to sell your pups to  working homes, but based on the regulations above, you are unlikely to be able to get their tails docked if you don't either
Work the puppies mother yourself
Work other dogs that you have bred in the past
Employ someone to work the puppies' mother
Regularly lend the puppies' mother to someone that works her.
In other words, if your bitch is not a trained gundog,  and you haven't trained and worked any of your other dogs,  you cannot have your puppies' tail docked.
It is all about you and your lifestyle,  not about the lives that puppies are destined for.
Is it unfair?
This may seem unfair,  but in broad terms I think it works.
For the most part,  puppy buyers looking for a working dog will want evidence of the mother's working ability.  They will at least want to know that she retrieves, and hunts keenly, even if she has not been properly trained.
So any hopes of working homes for a litter of puppies may not be realised in any case,  if the owner has never worked their mother.
As far as the evidence requirements are concerned, I  can't think of an alternative way of gathering evidence without abusing and therefore risking our precious exemption.  Can you?
Making sure you can have your pups docked
If you are intending to sell your puppies to working homes it is vital that you plan long before you have your bitch mated.
You must work your bitch,  or have her trained and worked by someone else on your behalf.   You will then need to provide evidence that you have done so, as outlined in the regulations quoted above.   Remember,  the law  is concerned with you and your bitch,  and not with her puppies.
So it is up to you to make sure you meet the requirements.
Once you have done so,  you will also need to find a vet willing to dock tails.    Vets are not obliged to dock if they do not want to,  but in most areas of the UK it is not difficult to find a docking vet, provided you are prepared to make a bit of a journey.  And provided again,  that you plan ahead.
Check with your vet before having your bitch mated,  and make sure you have a 'back-up' vet in case yours is taken ill,  or happens to be on holiday when needed.
If you enjoy my articles, you might like my new book: The Happy Puppy Handbook
 – a definitive guide to early puppy care and training.