Missing out?  Click here to get my new articles delivered to you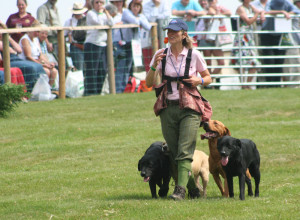 I took some time off on Friday and headed to the CLA Gamefair at Blenheim Palace.
I thought I would share a few of my photos with you.
Despite the melting temperatures there were some nice demonstrations, and explanations, of gundog work in the Working Gundog Arena during the course of the day.
And a nice little demo of place board training by Ian Openshaw in the Main Arena in the afternoon.
Rare breeds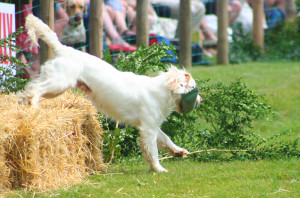 It was great to see some of our more unusual breeds turning out in force.
Especially one of my favourites, the clumber spaniels.
Debbie Zurick and her team of Clumber enthusiasts gave us a lovely display and showed us just how athletic and enthusiastic this breed can be if bred for true working ability.
We watched some hunting, and plenty of retrieves.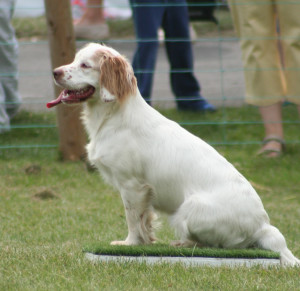 We were shown some place board training and some stylish jumping.
Not to mention some cheeky and resourceful sneaking underneath the fence!
All carried out in the blistering heat.
The Irish Water Spaniels gave a display too.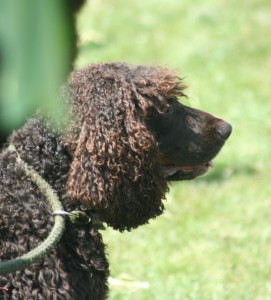 Though I only caught a small part of it.
It was lovely for the public to get a glimpse of these unusual dogs.
And to see them demonstrating what gundogs do and what fun gundog training can be.
Labradors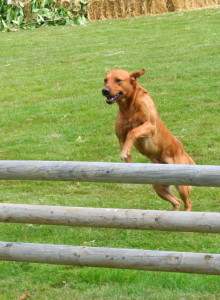 Gilly Nickols from Bedgebrook gundogs gave a display of picking up skills with her team of labradors.
It was fun to see real dogs behaving like real dogs, rather than a dry display of perfect control.
The beautiful Rum was doing his best to keep Gilly's attention firmly on him at all times.
And the mischievous youngster Branson, played a little game of grandmother's footsteps whilst Gilly was chatting to the crowd.
The dogs delighted onlookers with their characters shining through.
Spaniels
Ian Openshaw did not disappoint with his usual high standard of display in the main arena.
He focused on place board training, the theme of his new video, and currently a 'hot topic' in gundog circles.
Is it worth it?
This is the first time I have been to the Gamefair for several years.
Two cancellations in recent times plus public concerns over spending have perhaps influenced attendance as this was the first time that I can ever remember not having to queue to get in.
The car parks seemed less full, and the crowds a little less dense than I remember.
Entry wasn't cheap at £60 for two of us,  but we had a good day out and thought it worth it.
If you haven't made up your mind whether or not to go, I think you'll enjoy the Gamefair.  It is a huge event, a celebration of British rural life, and there is definitely something for everyone to see and enjoy.