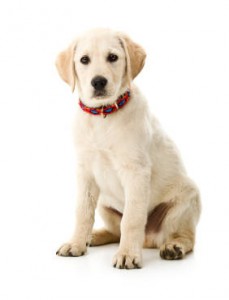 This article is adapted from 'Passing Grade One'  a Gundog Club guide to basic gundog training.  You can purchase Passing Grade One from the Gundog Club bookshop.
The objective of this exercise is to achieve a rapid and tidy response to a single sit command.   The exercises should take place in a quiet and confined space.  Your kitchen or back yard is fine.
This is a traditional method of training which does not rely on the use of food,  and includes gentle physical manipulation.   If you would like to train entirely with rewards,  check out my new ebook 'How to win at dog training'  for detailed information on training without aversives.
Basic Sit:  the steps
 Decide on a release command
Get some attention
Associate the word 'sit' with the correct position
Teach the dog that 'sit' is now a command
Train a fast sit response
Transfer the behaviour to other locations
STEP 1.  DECIDE ON A RELEASE COMMAND
Before you begin, decide on a release command.   Very soon now, when you tell your dog to 'sit' he will be expected to remain there until you release him.  We will not be using a 'stay' command as from now on,  'sit' means "sit until I tell you to do something else".  If you have another job in mind for your seated dog, then you can release him with another command such as 'heel' But quite often, especially at this early stage you will want to release him to simply do his own thing.  For this you will need a specific release command.  Mine is 'get on' which for spaniels later becomes a hunt command.    Some people use 'go play',  'hurry up' is another one.    The choice is yours.    Do not use praise such as 'good dog'   to release your dog  – it will cause problems later when you need a means to praise a dog who is not supposed to move.
STEP 2.  GET SOME ATTENTION.
You cannot train a dog that is busy exploring the inner workings of his favourite toy, nibbling fleas out of his tail, or looking for slugs in your flowerbed.   You need his attention.
Attention is not a problem with the dog who is deeply enamoured with people in general and you in particular.  He will have his eyes on you much of the time.   You are the centre of his world and have a head start over the owner of the hunting obsessed spaniel that never takes its nose off the ground except to chase every leaf and insect that passes by.   If your dog has a short attention span you may find it helps at first to give him the occasional morsel of food.   You can phase this out as his concentration improves.
Choose a very boring and quiet place to begin.  Make sure your dog is interested in you and not distracted by anything else.   Make sure you are both alone.
Q  – Do you have your dog's attention?
STEP 3.  WORD ASSOCIATION
This phase of training is about making a link in your dog's mind between the word 'sit' and the position you want him to take up.     Many beginners allow their dogs to assume a wide variety of positions as a sit, but actually it will save you time later on to insist on a proper sit position right from the beginning
Sit means:  sitting upright with bottom firmly on the floor, head up high, back legs tucked neatly under and the body neatly aligned. Let's be clear that sit does not mean: back legs slumped out to one side in a semi-reclining position, nibbling at the flanks, scratching the ears, looking over one shoulder or sniffing along the floor.    The sooner this is established the better.
How to get the dog into the 'sit' position
There are several ways to achieve this aim.   One simple one is to hold a tiny piece of food above the dog's nose and bring it up and backwards over the dog's head.  As he watches the food most dogs will automatically sit and you must time your word 'sit' to coincide with this moment.
Another way is to put one hand under your dog's chin and press firmly down on your dog's hindquarters with the other until he relaxes into the sitting position, some dogs are easy to manipulate physically in this way, others are very squirmy or will resist and then shoot forwards.   This is not my preferred method.
Some dogs sit very frequently  – often every time they anticipate something such as food or attention.   Adjust your method to your dog and time your use of the word 'sit' to coincide with his bottom moving towards the floor.
 Reinforce the position
Once you have the dog in the sitting position however briefly you need to reward, pause and release.
Reward with gentle praise or a little treat. You don't want the dog to leap around with excitement, so be 'calm' with your praise.  A quiet 'good dog' or 'good sit' with a gentle stroke or two is all that is needed.   If you lured the dog into position with a treat, you should give him this as his reward.
Pause before you release the dog (because you don't want praise to become the release word) The pause must be very brief (a couple of seconds is fine) at this point as the dog will get up again without being released and we want to avoid this.   If the dog gets up before you release him, patiently replace him back in the seated position using the word 'sit' again as you do so, if necessary hold him in position and release him as you give the release command.   Some dogs will try your patience in this respect, but consistency on your part will prevail.  Do not move on to the next step until he will sit briefly without being held.
Release the dog by saying your release word or phrase at the same time and encourage the dog to move about for a few seconds before repeating.
Repetition
The objective of this stage of training is to demonstrate to the dog what the sit word means.  At this stage 'sit' is not yet a command.  All you need to do is to link the word sit, with the sitting position as often as you can. Sit-praise-pause-release.  Help the dog into position whilst you say the word 'sit'.  Try and get ten of these little sits in a session.  Try and fit in two or three sessions a day.  You are building a 'word association' in your dog's brain.   After two or three days of this your pup will have a mental link between the act of sitting and the word sit.  He does not know that very soon he must sit, but he has an idea of what sit means.    Next we are going to teach him that he must sit every time he hears the sound 'sit'.
Q  –  Has your dog heard the word sit whilst being helped into the sit position for several days in a row? 
Q  –   Will he remain seated for a brief two seconds until you give the release command?
STEP 4.  SIT BECOMES A COMMAND
From the moment you move on to this step you make the decision to enforce the sitting position each and every time you say the word 'sit'.   It is important that you make a real commitment to this.   From now 'sit' becomes a command and we give a command one time only.   
Your routine for the next few sessions
You and the dog should be alone together as usual in a boring place. The dog must be standing up, not half sitting or about to sit.  Get your dog's attention (tap your leg or click your tongue) look straight at him and say in a nice but firm voice  'sit' and count up to five in your head.
One of two things will happen and you should be ready.  Either the dog will sit  – in which case go straight into your 'praise-pause-release' routine.   Or the dog will remain standing.   In this case you must immediately place him firmly in the sit position without a word.  He has heard the sit command; he does not need to hear it again.  And then 'praise-pause-release'.    Keep practicing several times every day if possible until the dog sits without assistance within five seconds of every 'sit' command.  Do not repeat the sit command.
Q  –  Does your dog sit within five seconds of every sit command.  Has he been doing this consistently for at least two days? 
STEP 5.  REDUCE LATENCY
Latency is that nasty gap between you saying 'sit' and the dog's rump reaching the floor.  We now want to get rid of it.  If your dog is slow to sit then this section is for you.  Your dog already sits within 5 seconds of the sit command.   We are now going to move the goalposts and teach him to sit immediately he hears the command.
How to speed up the 'sit'
There are two ways to reduce latency.  One way is to reward the fastest sits; another way is to correct the slow ones.   You can use both, but I recommend the former.
In the next training sessions carefully count how many seconds your dog takes to sit and for any sit that is faster than the one before give extra praise  – an occasional treat at this stage may help.   For any sit that is slower than the one before do not praise or treat, just pause and then release very calmly and immediately after the release, command sit again.  This makes the slower sits less rewarding for him.
In this way you will, over the course of a few sessions teach the dog to sit immediately on one command.   This rapid sit is your benchmark, your foundation stone and it is essential you make a good job of it.  Poor standards at your side will be magnified when the dog is working at a distance from you.   With good foundations, in a few months time your dog will be dropping from a gallop to a standstill almost instantly at fifty yards or more.
STEP 6.   TRANSFER TO A NEW LOCATION
Once you have taught your dog to sit in your kitchen, or in your back yard, you need to ensure he understands the command in more than one location.  For some dogs it takes a little time to grasp this concept.  This step is not about introducing distractions or trying to make the sit more difficult (a process known as 'proofing').   He is still learning and he needs your help to understand that the command applies in different places.
For the next few days you need to practice your new 'sit' command in a variety of locations carefully selected because they are fairly boring.  Do not attempt to get the dog to sit when you cannot first get his attention.   Try different rooms in the house, and different parts of your garden.  Make sure the dog sits reliably on command in your chosen outdoor training location before beginning the next chapter.
Q  – Does your dog respond rapidly to your sit command in a variety of locations including your intended training ground?  
Q  – Will he hold the sit position without help for a couple of seconds until you give the release command?
You can buy the Grade One  training guide 'Passing Grade One'  from the Gundog Club.
Have fun with your dog!
If you enjoy my articles, you might like my new book: The Happy Puppy Handbook
 – a definitive guide to early puppy care and training.