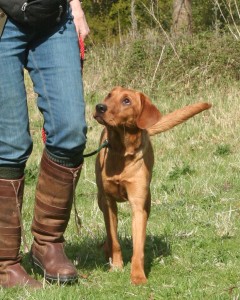 There are lots of different ways to teach a dog to walk to heel.
My methods have changed over the years but whichever method you use,  the key to success is simple.
Get the first two steps right and all the rest will surely follow
Mostly people mess up for one (or both) of two reasons
Because they try to get the puppy to walk half a mile at heel when he cannot even manage a few steps
Because they try to get the puppy to walk to heel past huge distractions before introducing smaller ones.
The traditional approach
Here is a fairly traditional but largely positive method.  It is taken from the Gundog Club's Passing Grade One training guide.
LOOSE LEAD WALKING

This step may not work quickly for older dogs that have learned to drag you around.   If your dog is a confirmed 'puller' you can go to step 2.   This is however a nice gentle method which can be used on puppies with no adverse effects.

Put a flat collar on your pup and let him get used to wearing it. This may take a couple of days; he will find it a bit irritating to start with.  Take the collar off whenever he is crated or alone for any length of time so he does not get it caught up on anything.
Pick the puppy up, attach the lead to the collar and put him down.  Remain quite still and do not react in any way when he tugs on the lead. 
As soon as there is some slack in the lead take a step forward.
If the pup rushes forwards again past you then, as soon as the pup reaches the end of the lead stand still.
If the pup hangs back and looks frightened, or gets to the end of the lead and panics, crouch down to encourage him to you and make a fuss of him.
Repeat steps 3, 4, and 5, several times
Stop the session after no more than five minutes. Less for puppies under five months old (three minutes is enough for a three month old puppy)
Repeat the session again later in the day if you wish.

For the first two or three days you may get no further than three steps.

That is ok.

The penny will drop in another day or two and the puppy will realise that if he wants to keep moving, the lead must be slack.   This is all you require from a pup under five months old.  Formal heelwork drills are not appropriate.
Once you have your two or three steps,  all that remains is to build on them gradually and to introduce distractions in the same gradual manner.  This takes time,  but it works.
Adding a reward marker
You can actually hasten the process above,  by using food. You'll need a reward marker (a click from a clicker,  or a snappy word like 'Good!').[wp_ad_camp_1]As soon as the lead goes slack,  or the dog turns his head to look at you,  give your marker and drop a little bit of food just behind you (with your body turned away from the dog) as you move away. 
He will then follow you,  collecting his food reward on the way.  
You can then click and reward the dog as he moves into the heel position.
If he rushes past, stand, turn your body away,  and repeat the procedure again.
Lures
Another way to get those first two steps started is with a food lure.  Hold the food against your hip and release it for the dog when he has completed two nice steps at heel.  Once the dog has got the hang of the position,  you can put the food in a pocket or bum bag,  and gradually require longer periods of heelwork in exchange for the food.
In time,  food can be replaced with other rewards such as opportunities to hunt and retrieve.
Build up slowly
Remember,  the key is to get those first two steps.  Once you can do two, it is just a numbers game.  Build up slowly.
My method
Nowadays I quite often use food in heelwork training,  and teach puppies to walk to heel off the lead before I move onto leadwork.   I don't use a lure,  but just click and treat the puppy for falling into step with me.
I can then become increasingly demanding as to the position which earns a reward,  the the length of time that the dog holds the position for.
If you drop food behind you and keep moving forwards the puppy will inevitably pass into the heel position again,  giving you the opportunity to reward him and reinforce the behaviour.
Puppies pick this up extremely quickly, and it is a simple matter to add the slip lead once they have got the hang of it.
How about you?
Do you have a favourite method for teaching heelwork to puppies?  Have your methods changed over the years?  Add your comments below.
If you enjoy my articles, you might like my new book: The Happy Puppy Handbook
 – a definitive guide to early puppy care and training.