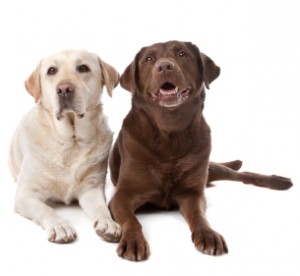 Somebody the other day asked me,  should they get a second dog.
And my answer was yes,  yes and YES!  It is so much easier to train gundogs when you have more than one.
Of course it isn't always that straightforward and will depend on your personal circumstances.
But there are some distinct advantages to owning multiple dogs.
Honouring and steadiness
I spend a lot of time writing these days and not as much time as I would like working on shoots.  Like many people that work their dogs during the winter months,  I may go as much as a week between shoots at times.[wp_ad_camp_1]This is not good for my dogs because they work very hard on a shoot day,  and need to maintain their fitness in between if they are not to strain muscles and injure themselves.
One of the key ways I keep my dogs fit is with dummy retrieves and doing this with one dog would be really bad for steadiness.
When you have two or more dogs,  every retrieving lesson also becomes a lesson in honouring (waiting patiently whilst another dog retrieves) and in steadiness.  
Your dog soon gets used to the fact that most of the retrieves are not actually for him.
Setting up exercises
Working amongst other dogs is part and parcel of being a working gundog.   Every gundog has to learn to take turns,  to ignore other dogs,  and to watch and wait whilst other dogs work.   This cannot be practiced in the absence of other dogs.
When you get a second or subsequent dog you will find you are able to set up all sorts of training exercises without involving other people.   This is very convenient, and fun too.
Kennel company
If your dog lives out in a kennel a second dog will make his life much more pleasant.  Someone to snuggle up to during the night and on cold days,  and the benefit of company is very important to these highly social animals.
The right time
Obviously there is a right and a wrong time to get a second dog.    Do wait until your older dog is fully trained.  If you don't do this you  will miss out on all the advantages  listed above and find it very difficult to cope.   Don't forget that early training with your new dog will need to be carried out separately from your older dog to begin with.
During the first few months these separate training/exercise sessions will require an extra chunk of your time every day.   Getting a second dog when a new baby is due or when you are moving into a new house is not always a great idea.  Nor is waiting until your existing dog is too old to enjoy or tolerate a small puppy around him.
I find that a good gap between dogs is three or four years.  That way,  the older dog is fully trained, young enough to be relaxed around an annoying youngster, and even willing to play sometimes.
You will not have completely forgotten all that is involved in raising a puppy and will soon slip comfortably into your new routine.
If you enjoy my articles, you might like my new book: The Happy Puppy Handbook
 – a definitive guide to early puppy care and training.