Missing out?  Click here to get my new articles delivered to you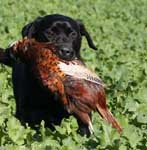 Many people that have a young, newly trained gundog are interested in having a go at picking-up
But what does picking-up actually involve?
And how do you get a foot in the door if you don't know where to start?
What is picking up?
Picking up is the collection of shot game. Any kind of shooting requires that game is collected quickly and efficiently.[wp_ad_camp_1] Both to ensure that wounded animals can be despatched humanely, and to provide food fit for the table, which is of course the primary purpose of game shooting.
This applies to a small rough shooting expedition, an afternoon in a pigeon hide, or a day on a formal driven shoot.
However, when people say that they are 'going picking-up' they are usually talking about working their dog on a driven or walked up formal shoot day. Picking-up is a job for a fully-trained dog.
Formal shoots
On a driven pheasant shoot, guns are arranged in a line and birds are shot as they fly over the guns. Many of these birds will fall behind the line,  and this is where the pickers-up and their dogs are waiting.
Wounded birds are collected immediately, but the majority of work is done after the whistle is blown at the end of each drive.
The same rules apply to partridge or grouse shooting though the terrain may be very different from the typical pheasant shoot.
What is involved
If you have spent a great deal of time teaching your dog how to handle with spectacular style at a distance, you may be a little disappointed to find out that much of a picker -up's job is rather less glamourous and involves what is known as 'sweeping up'
Sweeping up means hunting an area of ground thoroughly, in order to ensure all the birds that have fallen there are picked up and taken to the game cart.
For this purpose, you won't need to 'handle' your dog other than to keep him within an area,  but will need your dog to hunt fast and efficiently.
There are opportunities for those really satisfying retrieves and if you spend a whole season picking up, you will have some wonderful retrieves to remember,  but sweeping up is the 'bread and butter' and those special retrieves are the icing on the cake.
Demand for places
In many areas, there are more people wanting to go 'picking-up' than there are spaces for pickers-up on shoots. And pickers-up tend to guard their 'territory' with enthusiasm
So don't expect to waltz in to a shoot as a total stranger, and be automatically be welcomed with open arms That is not always how it works.
Starting in the beating line
A good way in to a shoot often begins with the beating line. Don't take your dog if you don't want to beat with him, beaters without dogs are a useful asset to most shoots.
You may be given a flag to wave and you will certainly be doing a lot of walking.  Check out Beating for the First Time for more information
If you make yourself useful in the beating line, you will be able to make friends with the pickers-up, and may get an opportunity to help out in the picking-up line later in the season.
An experienced picker-up will often be willing to encourage and support someone new to the sport, especially if the person concerned appreciates the help, follows instructions, and is willing to learn.
Gaining experience
When you take a young dog on a driven day for the first time, it is really important to be able to pick and choose your retrieves. You don't want a young dog retrieving runner after runner,  and melting his brain with the sheer excitement of it all.
You need to gain some experience too.
And if you do not know how to humanely despatch a bird,  make sure you learn this important skill without delay. Ideally, for the first few outings, your dog should be mainly observing.
This means finding an experienced picker up who will let you 'tag along'  with them, perhaps selecting you a couple of suitable blind retrieves for your dog. This type of experience is worth its weight in gold and if you don't have friends in the trade, your best way of getting it, is to hire the services of a professional trainer.
Once you have some experience assisting an 'old hand'  you will hopefully get a chance to pick up in your own right.
Your first day alone
Your first time picking up on your own can be quite daunting. There is a lot to remember and think about, but it is important to stay calm and not let your 'nerves' be transmitted to the dog.
It is another good reason to begin on small shoots where you won't feel intimidated and will be able to relax. If you are asked to pick up for a specific gun,  introduce yourself and make sure he knows where you are standing.
Don't cast off your dog the second the whistle goes for the end of the drive or you will soon find him dashing off at the sound of the whistle. Pick up any birds in clear sight nearby, by hand,  let the dog sit and watch you do this.
On a small shoot, the gun will probably have an idea how many birds he has down and some will know roughly where they are.  Some guns however, are over optimistic in this respect,  so you will have to use your judgement to an extent.
Making yourself helpful
The more helpful and friendly you are,  the more likely you are to be asked back.   If you have picked up for your gun, offer to help any of the other pickers up that are still looking.
Always ask first,  don't just cast your dog into someone else's patch! Learn how to tie up a brace of birds and hang them in the game cart.  On a small shoot, everyone has to help with these tasks.
Remember to stay calm.  Annoying things happen on shoot days.
Expectations run high and  it is easy to get upset and make yourself look silly.  On small shoots,  the beaters' dogs will often pile in at the end of the drive and hoover up the birds your dog has sat patiently waiting to retrieve.
It is all part of the day, so bite your lip and smile,  and think how your dog's steadiness will be improving. Be prepared to socialise at the end of the day.
On many shoots everyone will repair to a barn or the local pub to mull over the days events.  This is where friendships are formed and contacts made.
Picking up is a fantastic hobby,  for you as well as your dog.   You will both be fit, healthy and happier for it.  And each time you go out, you will learn something new!
If you enjoyed this article, you might like my new book: The Happy Puppy Handbook
– a definitive guide to early puppy care and training.