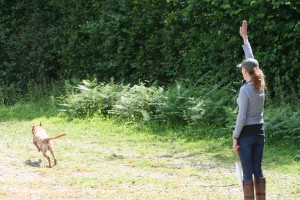 This is the first part of a six step basic back cast programme for beginners.
Step One is a basic back cast with no distractions.
Check the introduction to this series
In it you can discover what point your dog should be at in his training before commencing back cast training
Objectives of Step One
The purpose of this first step is very simple.
Our objective is to introduce the dog to the concept that the word 'back' is not just something he hears when he is at heel and ready to 'line out'  to a dummy from your side.[wp_ad_camp_1]It does not just mean 'fly out from the heel position at my side, directly away from me in the direction I am indicating with my arm'.
It also has a meaning to the dog when he is remote from his handler.  
It is a cue for the dog that  is working at a distance from the handler in the field and has been 'stopped' by whistle to await instructions.
To this dog it means 'turn around and travel directly away from my handler '.
Isn't that obvious?
It might seem obvious to us that 'back'  simply means 'move away from the handler in the direction that the handler is facing.  But to most dogs, this is not at all clear.
Your dog has learned the back command from the heel position but will not simply be able to transfer that understanding to a situation where he his body is in a different position relative to you.  And where he is separated from you by significant distances.
This is something you need to teach him, and the exercise below is where we begin
Hand signals
Before you start the following exercise, you need to give some thought to the hand signals that you are  going to use.
I use a raised hand, like a policeman stopping traffic (see photo above).  But if you want to use my signal as a  'stop' cue, you'll need to modify your own back signal and add some movement to it.
To find out more about the logic behind different ways to give a 'back' cue, check out my article: 'hand signals for gun dogs'
Finesse
When your dog sets off on a back cast, there are two different ways in which he  can rotate.  He can spin around to his right, or he can spin around to his left.
Some dogs have a great preference for rotating one way or the other.  And if you wish, this is something you can control by teaching the dog to rotate in a different direction depending on which arm you signal with.   In the picture above Tess is rotating to her left (my right) because I am raising my right arm.
This control can be useful in rotating a dog away from a diversion, but it takes a little extra time to teach, especially in dogs that have a strong preference for rotating in one direction.  So many gundog trainers don't bother with it.
If you like the idea of teaching a right or left 'back' command, you can find instructions in my Gundog Club manual: Passing Grade Three.   The following instructions assume you are not bothered with which way your dog rotates.
The set up
Imagine you and your dog are standing in the middle of a large clock face.   Your dog has his back to 12 o clock, and you have your back to 6 o clock.  Be ready to give your usual verbal 'back' command, but this time you will pair it with a 'back cast'  hand signal.
A steady dog may be reluctant to move initially.  Adding two new cues at once is a fairly traditional approach, but in this case, the added hand signal actually seems to help the dog grasp the new concept and encourages him to move, rather than just looking at you in a puzzled kind of way.
Let's have a closer look
The exercise
Sit your dog so that he is facing you, with no more than a yard or two between you.
Blow the stop whistle and throw a dummy over your dog's head to 12 o'clock
Wait a few seconds then give your verbal 'back' cue together with your raised 'back' hand signal
If he remains seated take a step towards him and encourage him enthusiastically –  do whatever is necessary to get him after the dummy without repeating the back command.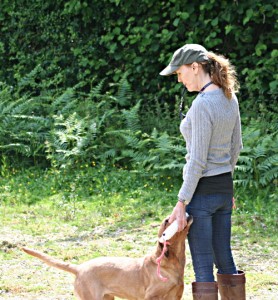 Take delivery of the dummy and repeat from 1
Progress
Within a very short space of time, your dog will be spinning around and fetching the dummy as soon as you give the command.
Now you can introduce a bit of a time lag (up to 15 seconds or so ) between the throw of the dummy and the back cues.
You should also start to fetch some (at least half) of the dummies you throw behind the dog yourself whilst he sits and watches.
This helps to maintain steadiness and keep him focused on remembering that there is a dummy behind him.
Losing the verbal cue
Once the dog is reliably retrieving on your combined signal of a verbal 'back' and a visual hand signal, you can begin to drop the verbal 'back'.
The whole  point of casting is to be able to control a dog at a distance, and you do not want to be bellowing 'back' to a dog when he is on the other side of a field.  So let's lose the verbal 'back' cue now.
Most dogs require no help at all with this, but if your dog is reluctant to go on the hand signal alone, wait two or three seconds and then follow it with the verbal cue.
Keep practicing until he spins around on the hand signal alone.  He'll soon catch on.
Now you are ready to add a distraction!  And we'll look at that next time.