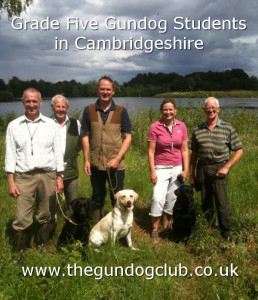 What exactly are gundog Field Tests?
And how do they differ from the traditional gundog tests run by the Kennel Club?
The training process
Field Tests are not competitions.
They are tests for gundogs in training,  and are offered at a number of different 'grades'.
Are they like Field Trials?
Field Tests are very different from Field Trials
Field Trials are run by the Kennel Club are advanced competitions for fully trained gundogs.  They are held in the shooting season and under shoot conditions.[wp_ad_camp_1]Field Tests are run by the Gundog Club and are tests of the gundog's progress through the training process.  They are held all year around.
Field Tests are entirely non-competitive.  Each dog entered must meet a set standard in order to pass.
There are no 'winners' and no 'losers'
Dogs that fail can take the test again another day, when they have practiced and improved their skills.
Do Field Tests involve genuine shoot conditions?
The highest grades of Field Test (Grades 5 and 6) involve both game, and water.
Cold game retrieves are required at Grade 5 & 6, and a Record of verified Fieldwork will be required at Grade 6
Dogs that complete grade six will be competent and fully trained gundogs with a genuine record of field experience, on land and water.
The lower grades are run on dummies, and so are also suitable for pet gundogs that are not intended to work in the shooting field.
A complementary process
Field Tests and Field Trials are complementary, and many gundogs that do well in Field Tests will go on to compete in Field Trials and Working Tests
What about working tests?
Working Tests are run by the Kennel Club and like Field Trials are also competitions.
Unlike Field Trials, Working Tests do not take place under live shooting conditions and are usually held during the summer months.
Working tests consist of simulated 'set-ups'. Most are run on 'dummies' though there are some cold game tests.
They enable gundog owners to compete their dogs in conditions designed to test the gundog's ability, without going into the shooting environment
Like Field Trials, Working Tests are also aimed at dogs that have been trained, and open Working Tests require a high standard of gundog work and ability.
Who manages gundog Field Tests?
Field Tests are run by the Gundog Club, which is the training arm of The Gundog Trust.  Field Tests are the assessments for the Gundog Club's Graded Training Scheme
You can read more about the Graded Training Scheme in this article: Introducing Graded Training
Why not a competition?
Field Tests are about meeting a standard.   When you are working through a training process, you don't need to know that your dog can 'beat' another dog.  You need to know if he is ready to move on in his training,  and if he has learned the right foundations from which to progress.
'Losing' is demoralising and disheartening when you are just starting out,  and your success in a competition is dependent on the standard of the other competitors.
Field Tests avoid any confusion and the stress of competition.  Either you meet the standard, or you do not.  Little is left to chance.
If you put in the effort, and train your dog, you will pass your test and gain your award.
Because the graded training scheme is separated into several stages, there is less risk that dogs will be pushed on too fast, and entered for competitions before they are ready.  This is an ideal system for assessing dogs that are still in the early or intermediate stages of the gundog training process
Passing your Field Tests is a great boost and helps you move on with confidence and renewed enthusiasm and commitment.  This is what Graded Training is all about.
How do I enter?
You can book individual tests (at the lower grades), group tests with a friend,  or you can join in group tests arranged through your training Club or Society.   Several clubs now put on special tests days once or twice a year.
The more people that take their test at one time,  the more economical it is for each individual taking part. And you are not restricted to entering dogs that are registered with the Kennel Club.  Cross-bred dogs are welcome to participate.
Bookings are made through the Gundog Club   telephone number 01428 717529
Do I have to attend a course?
You do not need to attend a course in order to take a Field Test
The Gundog Club used to run courses using sub-contracted instructors, but this system was discontinued in 2010.
How do I train?
Nowadays you can train in groups or one-to-one with Accredited Gundog Club Instructors, or at home by yourself, using the Gundog Club manuals to help you.  Most people use a combination of home training and professional help –  with professional help and facilities being especially important at the higher grades.
Field Tests are fun.  There are tests for each stage in the training process.  You do not have to pass the previous grade in order to enter the Grade you think suitable for your dog.
Check out the Gundog Club website for more information or to book your test.